Tea Project in Hills: Result not so encouraging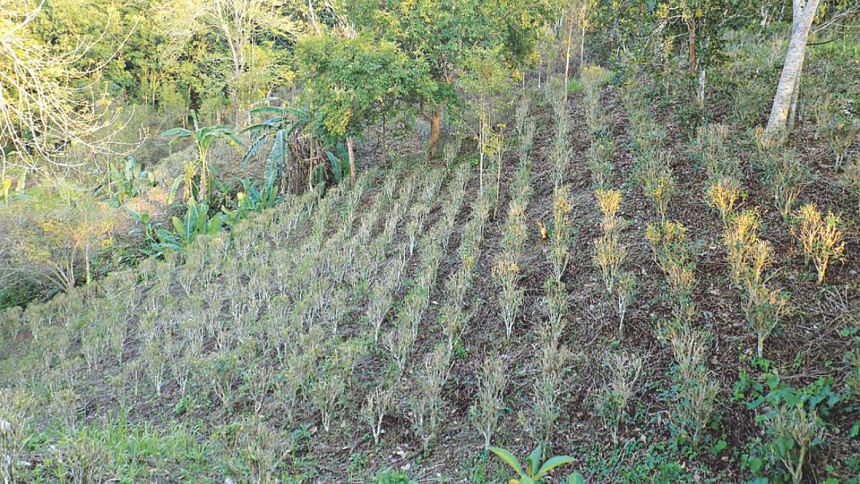 A grand plan by the Bangladesh Tea Board to encourage small-scale tea plantations in the Chittagong Hill Tracts has met with little success. Under the Tk 1.56-crore project initiated in 2005, loans were extended to 64 prospective farmers in anticipation that around 300 acres would be cultivated with tea. But loans have been used for other purposes. Many farmers are in default with regard to repayment. The targeted annual harvest of 1.4 lakh kilograms of tea leaves has fallen well short, with only 22,000 kilograms collected last year.
"We are really frustrated," says Md Amir Hossain, development officer in the Bandarban unit of the Bangladesh Tea Research Institute. "The farmers, including several politicians, didn't use the loans properly. Most beneficiaries only cultivated a few acres with tea."
"Many of the loan holders under the scheme haven't repaid their loans in time," says Md Akkas Uddin, the manager of Bangladesh Krishi Bank in Bandarban, which supervises the loans. "They have become defaulters."
Among the scheme's participants, Kwe Shwe Hla, the president of the ruling party's Bandarban district unit and also Bandarban Hill Disrict Council's chairman received Tk 8.79 lakhs in loans to grow tea on ten acres; but only a few decimals of land at Hla Pai Mukh have been used for that purpose, according to Amir.
It's a circumstance that may raise questions about his continued role in the district council since the Hill District Council Act 1989 precludes the involvement of government bank loan defaulters.
Kwe Shwe Hla refused to comment on the matter.
One ruling party vice-president in Bandarban, Mong Kya Ching Chowdhury who also participated in the project, was allotted Tk 3.91 lakhs in loans to grow tea on five acres. He is also the president of the Bandarban Tea Farmers' Welfare Association and in that capacity is seeking for all of the loans to be written off. "We have requested the authority several times to exempt our loans," he says.
Secretary of the association Md Yakub Ali Sikdar told The Daily Star that it hadn't been possible for farmers to utilise their loans properly due to the many administrative constraints attached to the scheme. "There were so many hurdles to jump," he says.
Other loan recipients include another ruling party vice-president Abdur Rahim Chowdhury, who secured loans worth around Tk 5.56 lakhs, with a further Tk 2.28 lakhs in loans granted to his daughter Parvin Akhtar; and Bangladesh Nationalist Party leader in Bandarban Prof Md Osman Goni, who secured loans worth around Tk 16.11 lakhs to plant tea on 20 acres at Sualokh.
Distributed from early 2005, the loans were accompanied by a Tk 15,000 grant to each farmer to buy seedlings from tea board nurseries. Up to two lakh cuttings have been distributed among tea planters thus far; and technical support has been provided.
Meanwhile a second project to develop tea as a regional crop was approved by the commerce ministry in June 2016. Implementation of this project worth around Tk 10 crore is around sixty percent complete, according to the tea board.
At least 46,850 hectares in the three hill districts has been identified as suitable for tea, but to date it seems that local people have little interest.