Avoid actions that hurt RMG
Outgoing BGMEA president urges political parties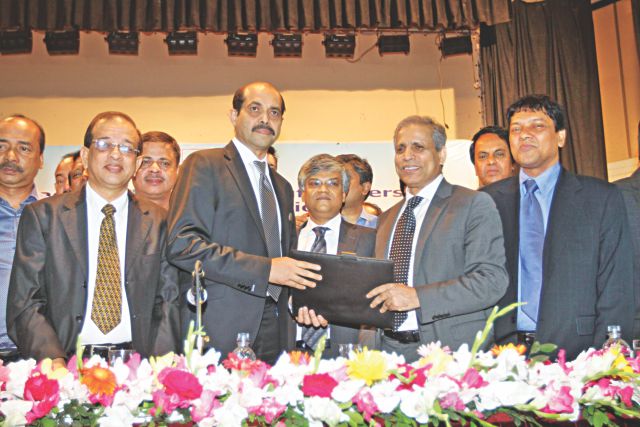 Shafiul Islam Mohiuddin, second from right, the outgoing president of Bangladesh Garment Manufacturers and Exporters Association, passes his mantle to Atiqul Islam, the newly elected president, at the trade body's annual general meeting at its office in Dhaka yesterday. Photo: Star
The outgoing president of Bangladesh Garment Manufacturers and Exporters Association yesterday again requested political leaders not to come up with any programmes that take a heavy toll on the garment sector.
The sector is already going through various crises on the domestic front, such as inadequate gas and power, and a shortage of skilled manpower, Shafiul Islam Mohiuddin said.
A prolonged financial crisis in their major export destinations -- the EU and the US -- has worsened their sufferings, he added.
"The damage to the sector is the damage to the economy," Mohiuddin said at the 30th annual general meeting of the trade body at its office in Dhaka.
He urged the government and the new committee of the BGMEA to diversify export destinations further as some new markets such as some Latin American countries, India, Japan, South Africa, China, Malaysia, South Korea, Australia and New Zealand are showing promises.
Bangladesh considers all markets as new except the traditional EU, US and Canadian markets.
Mohiuddin handed over power to the newly elected BGMEA president, Atiqul Islam, at the AGM. Islam's panel secured 21 of the 27 directorial posts at the biennial BGMEA election held on March 10 in Dhaka and Chittagong.
Islam said he would work to help ensure gas connections at the garment units on a priority basis, upgrade labour laws, assist sick garment industries and reduce bank interest rate.