'Why don't our institutions learn from old mistakes?'
Asks Khan; PTI to leave all Pak assemblies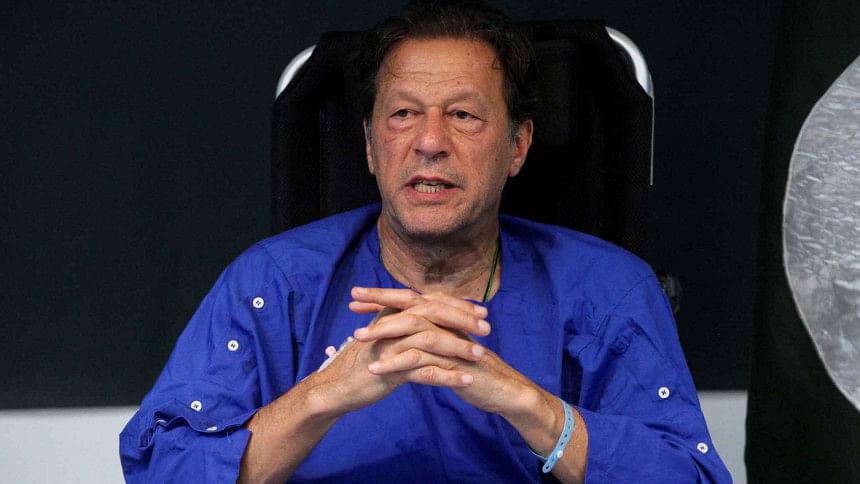 Former Pakistan prime minister Imran Khan yesterday lamented his country's institutions' incapability to learn from past mistakes as he addressed thousands of supporters at a rally after being shot earlier this month in an assassination attempt he blamed on his successor.
The shooting was the latest twist in months of political turmoil that began in April when Khan was ousted by a vote of no confidence in parliament.
Addressing the rally Imran, without identifying anyone, alleged that "three criminals" — those he accuses of being behind the Wazirabad assassination attempt on him — are waiting to take a shot at him again.
Imran has lamented why the country's institutions do not learn from their past mistakes.
He alleged that the establishment and Election Commission of Pakistan had united with those in the current government against him.
"I remember what happened in East Pakistan … we did not do justice with them or with Pakistan's biggest political party and we did not learn," he said referring to Awami League's election win in 1970. Imran has previously blamed the then West Pakistan leaders' greed for the partition of Pakistan.
He also said that the country's current problems are not due to a lack of resources but no rule of law since the beginning. He particularly hit out at the Sharif and Zardari families and accused them of making decisions and key appointments in their favour instead of the national interest.
He also announced that his party has decided not to remain part of the current political system and will instead resign from all the assemblies.
Yesterday's rally was the climax of a so-called "long march" by Khan's party, the Pakistan Tehreek-e-Insaf (PTI), to press the government to call a snap election before parliament's term expires in October next year.
The government says the assassination attempt was the work of a lone wolf now in custody, with police leaking a "confession" video by the junk-shop owner saying he acted because Khan was against Islam.
But Khan said he has long warned the government would blame a religious fanatic for any attempt to kill him.