What does Islami Andolon's memo to Indian High Commission say?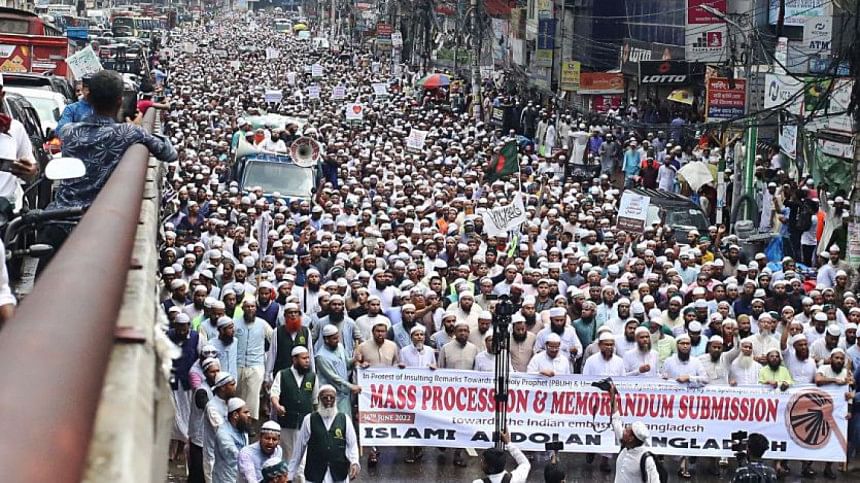 In connection with the offensive remarks by two suspended BJP leaders on Prophet Muhammad (PBUH) in India, Islami Andolon Bangladesh today (June 16, 2022) brought out a march from Baitul Mukarram National Mosque and handed a memorandum to the Indian High Commission in Dhaka.
The memorandum was submitted to the Indian High Commission through Gulshan police.
This is what the memorandum contained.
The memorandum — addressed to Indian Prime Minister Narendra Modi — said that Bangladesh and India share a time-honoured historic relationship.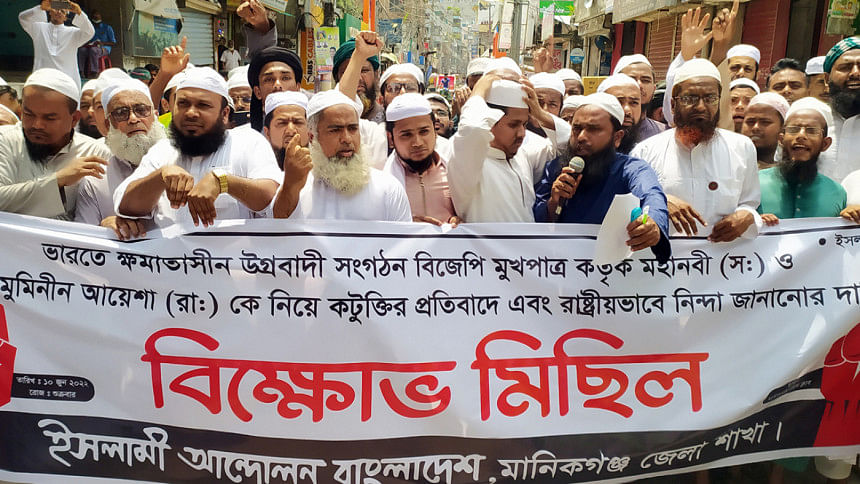 "The peaceful coexistence of followers of different religions is a feature of the Indian subcontinent. But in recent times, especially since India's current ruling party BJP came to power, Indian Muslims are facing a difficult situation. Various political decisions taken by the present BJP government are harming the interests of Muslims and in many cases, Muslims are being confronted by the Hindu majority. As a result, the possibility of religious riots in India has intensified…," it said.
"With the direct and indirect support of the present government of India, the demolition of a Muslim mosque and the construction of a temple there have been controversially approved. Muslims have been banned from slaughtering cows. Controversial laws on Muslim family matters like marriage and divorce have been enacted without consulting Muslim clerics or scholars. Legal complications have been created in educational institutions over the wearing of hijab by Muslim girls," the memorandum added.
Saying that the latest derogatory comments by suspended BJP leaders Nupur Sharma and Naveen Jindal have caused widespread discontent among Muslims around the world, the memorandum said, adding that the government of India cannot avoid the responsibility of disturbing peace in the region.
Mentioning that Nupur Sharma and Naveen Jindal's statements are a continuation of anti-Muslim policies of the ruling BJP government and its allies, Islami Andolon in its memorandum demanded their arrest and exemplary punishment.
In the memorandum, they also called upon the Indian government to change its policies and attitude towards Muslims and adopt a policy of equality for all for the sake of peace and harmony. The memorandum, signed by Islami Andolon Amir Mufti Syed Md Rezaul Karim of Charmonai, urged the Indian Prime Minister Narendra Modi to take necessary steps to control BJP leaders and their allies to establish peace and harmony in the region.