'Sri Lanka crisis a lesson for South Asian countries with politicised administration'
Speakers tell webinar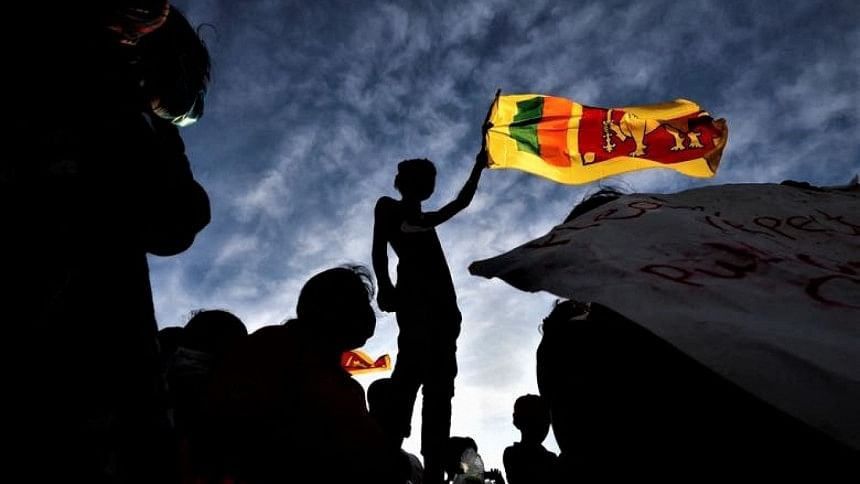 Sri Lanka's financial crisis is a classic example of what populist policies, corruption and mismanagement can lead a country to, which is a lesson for South Asian countries that lack good governance and has politicised administration, speakers told a webinar today (April 24, 2022).
Economists and political analysts from Bangladesh and Sri Lanka made these observations at a webinar titled "Current Sri Lankan Economic Crisis: Lessons for other South Asian Countries" organised by the South Asian Institute of Peace and Governance of North South University today.
Sri Lanka, whose current debt is 110 percent of its GDP, suspended payments on portions of its $51 billion external debt. It took huge foreign loans, at high-interest rates at times, for megaprojects like sea and airports that remain unproductive.
President Gotabaya Rajapaksa (72) who won the presidency in 2019 by a big margin, appointed his brother Mahinda Rajapaksa as prime minister and three other Rajapaksa family members as finance, agriculture and sports ministers.
Sri Lankan think tank Sarvodaya Development Finance Chairman Channa De Silva said the Rajapaksa family members held 75 percent of the budget and there was huge mismanagement and corruption.
De Silva said Sri Lanka's relations with China also spoiled negotiations of some deals. In many cases, the bureaucrats did not act responsibly as many of them became politicised.
Dr Nazneen Ahmed, country economist of UNDP Bangladesh, said the Easter bombing in 2019 was a great shock for Sri Lanka's tourism. The sector earned nearly $6 billion in 2018, which came down significantly. Foreign remittance also took a nosedive.
"Depending on two to three sectors for the economy is very risky," she said, reminding of Bangladesh's risks of depending too much on RMG and remittance for its foreign exchange.
Former foreign secretary Shahidul Haque said Sri Lanka has always been at the centre of geopolitics. It maintained a neutral stance in global and regional diplomacy but appeared quite tilted towards one side, especially in project financing from China.
"One needs to be very clever in terms of rebalancing relationship with the global powers," he added.
Sulochana R Mohan, deputy editor at Sri Lankan newspaper Ceylon Today, said the good thing is that the people in Sri Lanka are now united and are demanding a total change in regime and the ways of governance.
People should be at the centre of all policies, and those need to consider the long-term consequences, she said at the webinar, moderated by NSU Economics Prof Dr Gour Gobinda Goswami.