Military Courts: Pakistan hands over 33 pro-Imran protesters for trial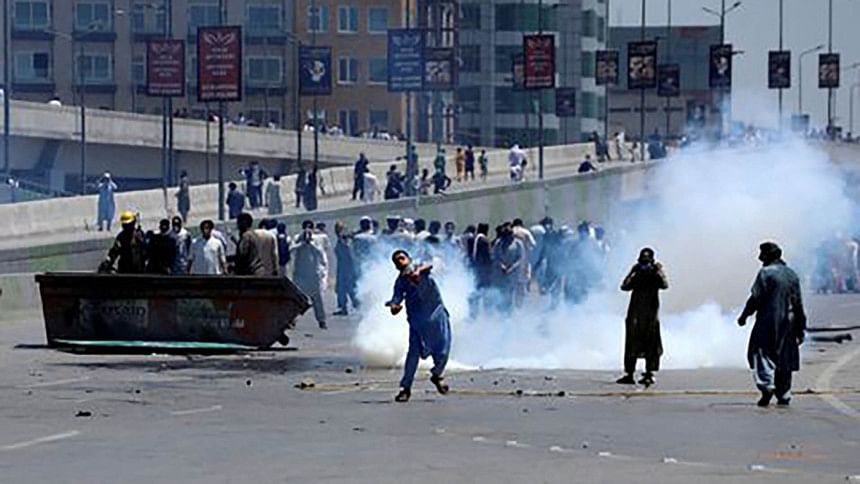 Thirty-three supporters of former Pakistan prime minister Imran Khan have been handed over to the army to face trial in military courts on charges of attacking armed forces' installations, Interior Minister Rana Sanaullah said yesterday.
The 33 accused are among the thousands detained since Khan's May 9 arrest sparked violent protests across Pakistan.
Khan was arrested on graft charges, which he denies. While he was subsequently released on bail, his confrontation with the country's powerful generals has escalated.
"The accused who are being handed over to the military are those who trespassed and entered very sensitive defence installations," Sanaullah told a press conference in Islamabad. He said that evidence suggested the protesters damaged or stole important equipment, computers and other sources of data collection.
He said only those involved in breaching out-of-bounds areas would face trial under army laws, suggesting there would not be mass trials in military courts.
But in response to a question, he also suggested that Khan could also be tried in a military court, saying: "as far as my own assessment and the evidence we have... this man is the architect of all this mess and planning, so yes he comes under this category."
Military courts are closed to outsiders, and no media is allowed. Rights groups have criticised the secretive nature of the process, reports Reuters.
Meanwhile, Khan yesterday cancelled the basic membership of all leaders and office-bearers who had quit the PTI during the past few days, reports Dawn online.
Although several leaders have parted ways with PTI in the fallout of the May 9 violence, the most notable among them were senior vice president Fawad Chaudhry, former federal ministers Shireen Mazari, Aamer Mehmood Kiani and former adviser to PM Malik Amin Aslam.
It is not yet clear whether the PTI chief has revoked the membership of Asad Umar, who had stepped down as secretary general and a member of the core committee but had not quit the party altogether.
Khan also ordered the removal of defectors who were part of the party's core committee. They will no longer be part of PTI's WhatsApp groups and the social media accounts will be updated to modify the references of the defectors.