Bangladesh-India JCC talks in mid-June: Jaishankar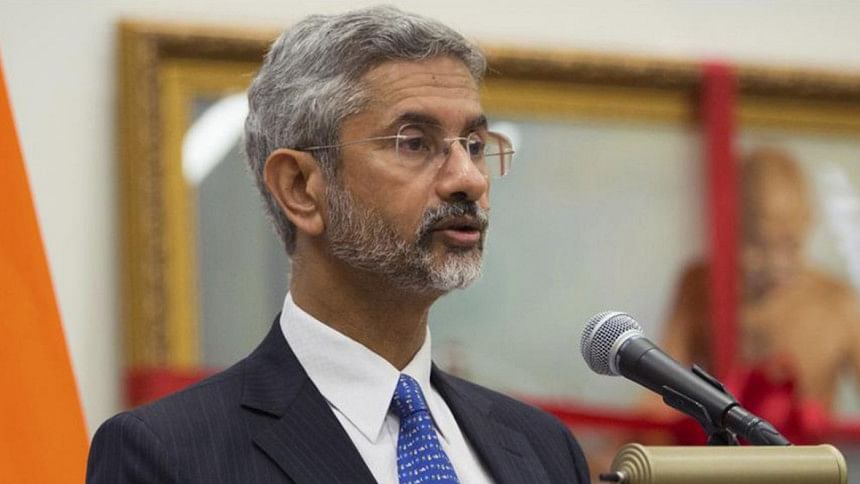 The India-Bangladesh Joint Consultative Commission meeting will be held in the middle of June to review the broad sweep of bilateral relations including connectivity, cross-border power trade and commerce, India's External Affairs Minister S Jaishankar said today.
Jaishankar, however, did not mention the dates of the postponed meeting which was originally supposed to be held in New Delhi on May 30, reports our New Delhi correspondent.
Declaring that Bangladesh has an "indispensable role" in economic integration of South and South East Asia, he said a comprehensive review will be undertaken during the forthcoming JCC meeting.
"We will be reviewing all these developments and more at the Joint Consultative Commission Meeting with my Bangladesh counterpart in mid-June," said Jaishankar while inaugurating the Natural Allies in Development and Interdependence (NADI) Asian Confluence River Conclave in Guwahati.
He said an additional 1500MW of electricity from India to Bangladesh is in the pipeline.
Turning to land connectivity between India and Bangladesh, he said overland movement of goods is taking place using 28 notified Land Customs Stations (LCSs) and three Integrated Check Posts (ICPs) along the border. Besides, negotiations are underway to operationalise the Bangladesh-Bhutan-India Nepal (BBIN) Motor Vehicle Agreement to ensure seamless vehicular movement.
Inside Bangladesh, India is collaborating on a series of road projects, including improving the Ashuganj river port to Akhaura land port road under a line of credit of more than US$ 400 million.
The road project connecting Baruerhat to Ramgarh on the India-Bangladesh border, which will increase Tripura's road connectivity with Bangladesh, is also being implemented under another LoC of US$ 80.06 million, the Indian foreign minister pointed out.
The intricate and intertwined cross-border geography is being synergised by agreements on movement of goods from Indian ports through Chattogram and Mongla ports in Bangladesh and from there overland to Tripura and other parts of the Northeastern states of India, he added.
The India-Bangladesh Protocol on Inland Waterways Transit and Trade offers similar potential, using 10 specific routes along shared and intersecting river systems, Jaishankar said adding "so remember, transits benefit not only the two ends but the middle even more as it would see an economic activity that could not be envisaged earlier."
He said the success of four border haats between India and Bangladesh in the period before the Covid-19 pandemic has encouraged the two countries to set up three new haats in Meghalaya and nine new haats are being set up, three in Meghalaya, four in Tripura and two in Assam.
Jaishankar conjured up a vision of an economically integrated economy of South and South East Asian economies saying this offered a "complete transformation of the regional economy."
"Instead of being regarded as a frontier, the region will emerge as a hub in itself. Its resources and skills will have a larger and more ready markets. The supply lines -in and out- will be shorter. The outlets to global access would be diverse and manifold. The intensity of economic activity will rapidly deepen because it will capture many more segments," he said.
He said the long history of the Indian subcontinent and its high points were periods when the east was the most prosperous. "Today too, our national resurgence is directly connected to the economic revival of the East.
"The coming together therefore of the Act East and the Neighbourhood First policies have an enormous reinforcing impact. And it is one that extends beyond the confines of South Asia. The realization of the potential of BIMSTEC is one example and the Thai Vice Minister spoke about it. It is one example that will change the Bay of Bengal," according to the Indian minister.
He said if land connectivity through Myanmar and sea connectivity through Bangladesh become viable, a world all the way to Vietnam and Philippines linking India will open up, creating an east-west lateral with sweeping consequences for the continent on a commercial scale.
"It will not only build on the partnerships that we have with the ASEAN and Japan but would actually make a difference to the Indo-Pacific Economic Framework" which was agreed upon last week by the US, India, Australia, Japan and 12 other countries mostly from South East Asia.
"It is definitely within our ability to overcome geography and rewrite near history if only we can get the politics and the economics right," Jaishankar said.
Referring to enhancing connectivity between Bangladesh and India's North East, he said the restoration of six historical cross-border rail links, dormant since 1965, is one major step.
Once operational, the Shahabazpur (Bangladesh) to Mahishasan (Assam) link will be extended within Bangladesh and connected to the Kuluara-Shahbazpur rail line currently being modernised using an Indian line of credit.
The Chilahati-Haldibari (West Bengal) line will further enhance Assam's connectivity to Bangladesh through New Jalpaiguri, including passenger traffic.
Earlier, Bangladeshi Foreign Minister AK Abdul Momen, who is visiting Guwahati of Assam to attend an international river conference, informed reporters about the JCC talks postponement after a meeting with Jaishankar there.
During his interaction with Bangladeshi journalists in Guwahati, he said that "I had a long discussion with the Indian foreign minister here (Guwahati) and discussed many issues. So, we feel that we can defer Monday's meeting."
Abdul Momen, however, did not mention new dates of the JCC meeting in New Delhi, reports our New Delhi correspondent.