2 mortar shells fired across border from Myanmar to Bandarban
The shells did not explode; no comments from BGB yet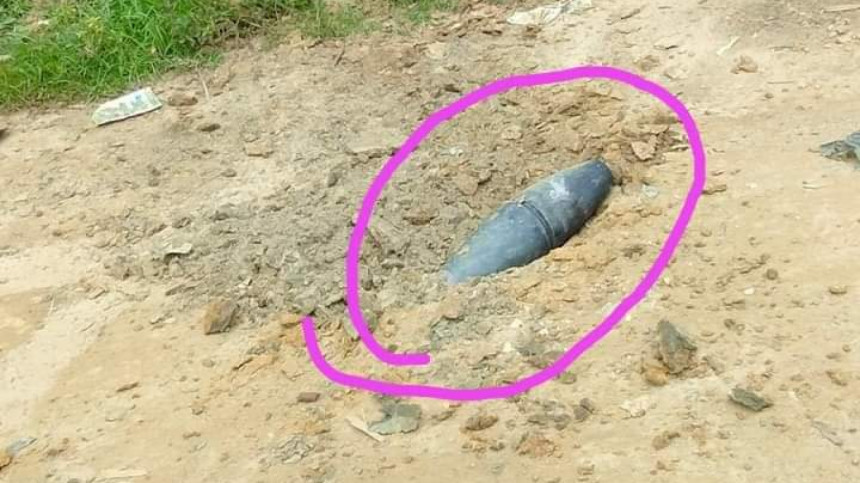 Two mortar shells from Myanmar side were fired across the border today (August 28, 2022) at Tambru area under Bandarban's Naikhyangchhari upazila creating panic among locals.
Police said that the incident took place in the area between ​​border pillars number of 34 and 35 along Tambru border around 2:30pm.
Confirming the matter, Md Sohag Rana, officer-in-charge of Ghumdhum Police Investigation Centre, said the area under BGB's jurisdiction, adding that police are observing the situation.
The shells landed near Uttar Para mosque in Ghumdhum union along Tambru border but did not explode, reports our Cox's Bazar correspondent quoting local Union Parishad Chairman Jahangir Aziz Chowdhury.
"I came to know this from locals and have conveyed the matter to the local unit of Border Guard Bangladesh (BGB). They have beefed up vigilance," Jahangir said.
"Two mortar shells from Myanmar were fired about half-a-kilometre from the zero line (No Man's Land) to Bangladesh side. One of the shells landed next to Uttar Para Jame Mosque along Tambru border in Ward No 2 under Ghumdhum inion, and the other landed around 200m from that mosque," Superintndent of Police in Bandarban Tariqul Islam told The Daily Star.
The two mortar shells were most likely not targeted towards Bangladesh side but somehow landed on this side of the border during firing by an insurgent group in Myanmar with their Border Guard Force (BGP), the SP also said.
No one was injured in the incident, he added.
It was not possible to contact with BGB's Cox's Bazar 34 Battalion personnel in this regard despite several attempts over phone.