Tripura chief minister Biplab Kumar Deb resigns amid state BJP infighting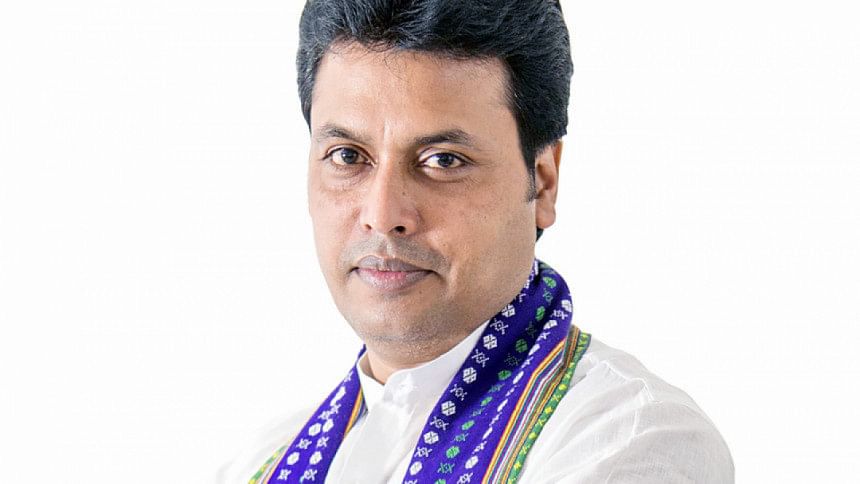 Chief Minister of India's BJP-ruled Tripura state Biplab Kumar Deb today resigned from the post amidst serious infighting in the party's state unit one year ahead of fresh assembly elections.
Deb said he has submitted his resignation to Governor S N Arya whom he met at the Raj Bhavan in Agartala, reports our New Delhi correspondent.
Senior BJP leader Bhupendra Yadav said the BJP legislators are meeting soon to pick the next chief minister.
Tripura's Deputy Chief Minister Jishnu Dev Varma, who is related to the erstwhile Tripura royal family, is tipped to take charge in the interim, sources said.
Sources said BJP leader of Tripura Pratima Bhowmick, who is now a minister in Prime Minister Narendra Modi's government, is also a contender for the CM post.
The BJP in Tripura has been buffeted by internal bickering and strains in the saffron party's alliance with the Indigenous People's Front of Tripura.
"The party is above all. I am a loyal worker of the BJP. I hope I have done justice to the responsibilities that were given to me -- whether it was BJP state president or Tripura chief minister. I have worked for the overall development of Tripura, and to ensure peace for the people of the state," Deb told reporters in Agartala.
Deb's resignation as chief minister came two days after his meeting with senior Indian Home Minister Amit Shah in New Delhi on Thursday and BJP President Jagat Prakash Nadda on the party affairs in Tripura.
Deb was appointed the chief minister after the BJP stormed to power in 2018, ending the 25 years of Left Front rule in Tripura.
Reacting to the development, Trinamool Congress, which is eyeing to grab power in Tripura, said Deb's tenure was marked by "attacks" on opposition activists and "murder of democracy" in Tripura.
"The resignation of Deb marks the beginning of the end of the BJP in Tripura," TMC spokesperson Kunal Ghosh quipped.