Rohingya refugees in New Delhi would be kept in detention centre till deported
Indian Home Ministry says refuting Hardeep Singh Puri's statement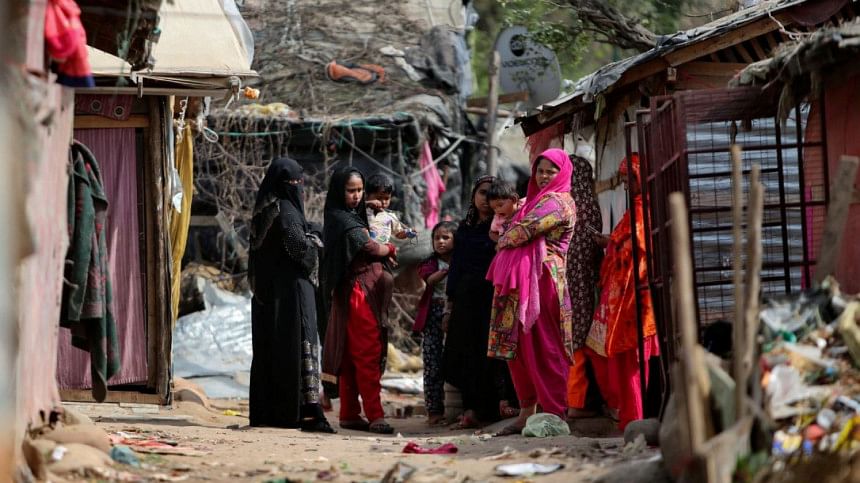 The Indian Home Ministry today (August 17, 2022) said Rohingya refugees in New Delhi would be kept at a detention centre till they are deported, refuting central Housing and Urban Affairs Minister Hardeep Singh Puri's statement made earlier promising flats and security to members of the Muslim minority community members from Myanmar.
This morning, Puri tweeted that Rohingya refugees would be allotted flats in west Delhi's Bakkarwala locality, provided basic amenities and round-the-clock police protection, reports our New Delhi correspondent.
A few hours later, the Home Ministry came out with a statement that "Rohingya illegal foreigners" would remain at their existing locality in south Delhi till their deportation.
Rohingya illegal foreigners are to be kept in the detention centre till their deportation as per law," according to the statement.
"With respect to news reports in certain sections of the media regarding Rohingya illegal foreigners, it is clarified that the Ministry of Home Affairs (MHA) has not given any directions to provide economically weaker section flats to Rohingya illegal migrants at Bakkarwala in New Delhi," it said.
The statement went on to point out that "the government of Delhi proposed to shift the Rohingyas to a new location. The Ministry of Home Affairs has directed the government of Delhi to ensure that the Rohingya illegal foreigners will continue at the present location at Kanchan Kunj, Madanpur Khadar as Ministry of Home Affairs has already taken up the matter of deportation of illegal foreigners with the concerned country through the Ministry of External Affairs."
"Illegal foreigners are to be kept in the detention centre till their deportation as per law. The government of Delhi has not declared the present location as a detention centre. They have been directed to do the same immediately," the Indian Home Ministry said.
Earlier, lauding the decision, Puri said in a Twitter post that "those who made a career out of spreading canards on India's refugee policy deliberately linking it to the Citizenship Amendment Act will be disappointed."
"India has always welcomed those who have sought refuge in the country. In a landmark decision, all Rohingya refugees will be shifted to EWS flats in Bakkarwala area of Delhi. They will be provided basic amenities, UNHCR IDs & round-the-clock Delhi Police protection," Puri, a retired diplomat, said.
"India respects & follows @UN Refugee Convention 1951 & provides refuge to all, regardless of their race, religion or creed," he added.
The Indian government estimate puts the figure of Rohingya refugees living in India at more than 40,000 with maximum concentration in and around Jammu. As of early this year, around 1,100 Rohingya lived in Delhi.
The Indian government has been trying to send back Rohingyas. Last year, the Indian Supreme Court had rejected a plea to stop the government from deporting to Myanmar some 150 Rohingya Muslims.
A section of Rohingyas in India have identity cards issued by the UNHCR recognising them as refugees but the country is not a signatory to the UN Refugee Convention.
India also rejects a UN position that deporting the Rohingyas violates the principle of refoulement – forcible return of refugees to a country where they face threats.
In February this year, Congress MP Shashi Tharoor had proposed a refugee and asylum law. But since the bill was from a private member, it failed.