"Mamata govt allowing violence over Prophet remarks to spiral"
BJP lawmaker from West Bengal writes to Indian Home Minister Amit Shah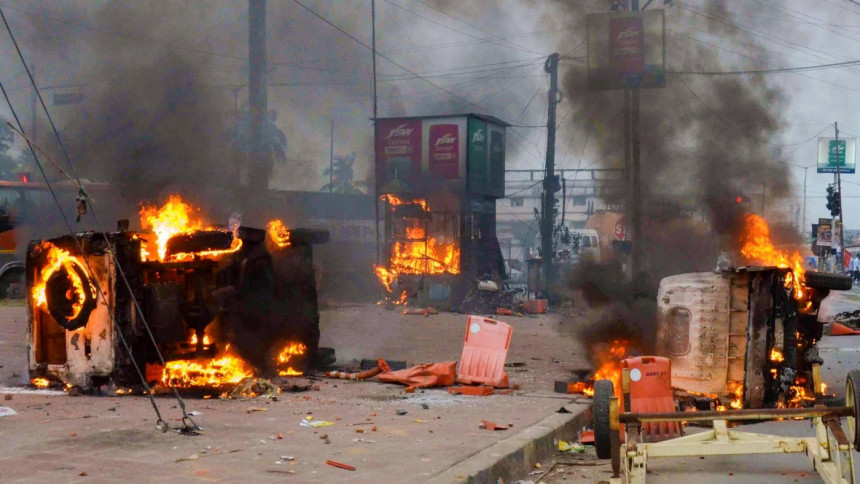 Protests against former BJP leader Nupur Sharma's controversial remarks against the Prophet Muhammad (PBUH) spread to more areas of West Bengal state in India yesterday (June 11, 2022). Fresh bouts of violence were reported in Howrah district where 60 people were arrested on charges of rioting, attempt to murder and causing damage to public properties, police said.
Reports of protest came in from Murshidabad's Beldanga 1 and Beldanga 2 blocks and parts of South 24 Parganas district.
In Panchla Bazaar area of Howrah, a mob clashed with police and pelted them with stones, which resulted in injuries to several personnel yesterday.
The mob also set several houses on fire and vandalised a BJP party office, forcing the police to fire tear gas shells to disperse the protesters, reports our New Delhi correspondent.
On Friday (June 10, 2022), the first day of the street protests in Howrah, hundreds of people torched police kiosks and vehicles. A scuffle between the protestors and the police had broken out at Dhulagarh, Panchla and Uluberia when the police tried to remove the blockade on a national highway.
Internet services remained suspended in Howrah district till June 13. Internet access was also restricted in parts of Murshidabad to curb the spread of misinformation.
In Murshidabad, a girl was reportedly arrested for a controversial post on social media.
Chief Minister Mamata Banerjee warned of stern action against those indulging in violence and alleged that some political parties were inciting people.
BJP West Bengal unit President Sukanta Majumdar was arrested yesterday when he was on his way to Howrah's protest site.
Saumitra Khan, BJP lawmaker from West Bengal, yesterday wrote to Indian Home Minister Amit Shah demanding deployment of federal armed forces in violence-hit Howrah district and alleged that the Mamata government has "failed" to maintain law and order and "allowed the violence to spiral for vested political interests".