Gen Bipin Rawat: Life on the frontline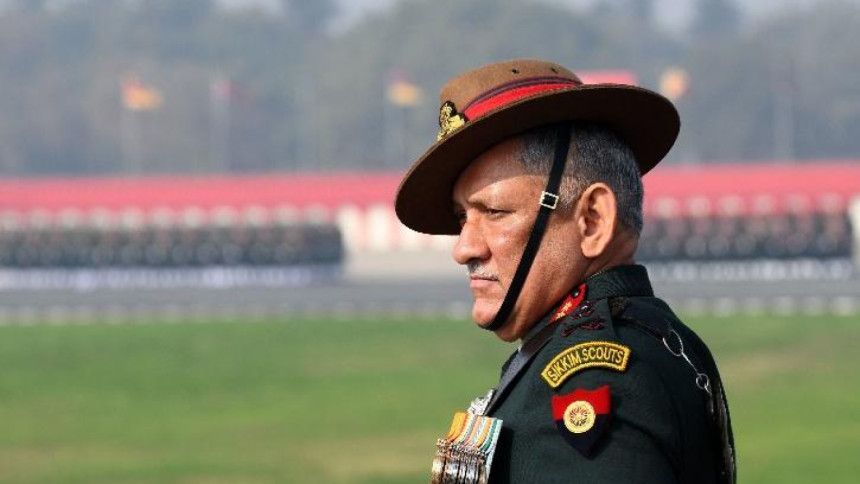 Indian Chief of Defence Staff Gen Bipin C Rawat, who died in a helicopter crash in the Nilgiris hills of Tamil Nadu state yesterday, was one of the most outstanding military commanders with a vision to thread together the three defence services and implement the organisational reforms in the military establishment.
With an illustrious career spanning over 40 years, Gen Rawat served with distinction in several conflict-ridden areas, including Jammu and Kashmir and the northeast and played a key role in India launching successful cross-border surgical strikes against insurgents in Myanmar and across the Line of Control with Pakistan when he was the army chief, reports our New Delhi correspondent.
Interestingly, Gen Rawat had survived a helicopter crash in 2015. On February 3, 2015, the then Lt General was aboard a Cheetah helicopter when the single-engine army aviation chopper went out of control and crashed within seconds of taking off from Dimapur, Nagaland
In 2015, he was instrumental in carrying out a cross-border operation into Myanmar in response to a major ambush by Naga militants.
He was also part of the planning when India carried out surgical strikes against terror infrastructure across the Line of Control in Pakistan-occupied Kashmir that inflicted significant casualties on the adversary soon after the killing of 19 Indian troops at Uri in Jammu and Kashmir in September 2016.
Gen Rawat was the army chief when Indian fighter jets attacked a Jaish-e-Mohammad terrorist training camp deep inside Pakistan's Balakot and was reportedly part of the decision-making process and provided key inputs for the operation in 2019.
Gifted with a deep understanding of geopolitical churnings in India's neighbourhood, Gen Rawat presided over a tri-services military doctrine to help India face new security challenges and is largely credited with bringing down militancy in the northeastern states and Jammu and Kashmir.
Much before the military faceoff with China at the trijunction of India-Bhutan-China in 2017, Gen Rawat had highlighted that India's primary and long-term security challenge would come from an increasingly combative China and that India needed to modernise its armed forces to confront it.
As India's first Chief of Defence Staff appointed two years ago, Gen Rawat went about coordinating the Army, Air Force and Navy with a business-like approach and specific timelines.
Known to be blunt at times, he ruffled many feathers with his controversial remarks during his tenure as army chief and chief of defence staff.
In 2017, Gen Rawat faced criticism for awarding the chief of army staff's commendation card to Major Leetul Gogoi for efforts in counter-insurgency operations. Gogoi had tied a man to his military jeep purportedly as a shield against stone pelters during the 2017 Srinagar by-election.
In 2019, his remarks about the countrywide protests against the Citizenship Amendment Act had also sparked criticism.
Gen Rawat had once talked about the theory of the "clash of civilisations" while mentioning the western civilisation and China's growing relations with countries like Iran and Turkey.
Indian External Affairs Minister S Jaishankar had then sought to distance the government from the controversial comments by Gen Rawat and said India had never subscribed to any civilisational clash theory.
Rawat was born in Pauri, Uttarakhand, on March 16, 1958. His family had been serving in the Indian Army for generations. His father Laxman Singh Rawat rose to the rank of Lt General.
Rawat attended Cambrian Hall School in Dehradun and the St Edward's School, Shimla. He was a graduate of the Defence Services Staff College (DSSC), Wellington and the Higher Command Course at the United States Army Command and General Staff College at Fort Leavenworth, Kansas. 
Gen Rawat was appointed the 27th chief army Staff in 2016 amid a row over his seniority. And then rose to become the CDS in 2019.
The government had amended the Army rules to extend the age of superannuation from 62 years to 65 years, paving the way for Gen Rawat's appointment to the post of CDS.
Rawat was decorated with many honours for his service, including the Param Vishisht Seva Medal, Uttam Yudh Seva Medal, Ati Vishisht Seva Medal, Vishisht Seva Medal, Yudh Seva Medal, and Sena Medal.