Bangladeshi among 5 suspended South Asian University students on hunger strike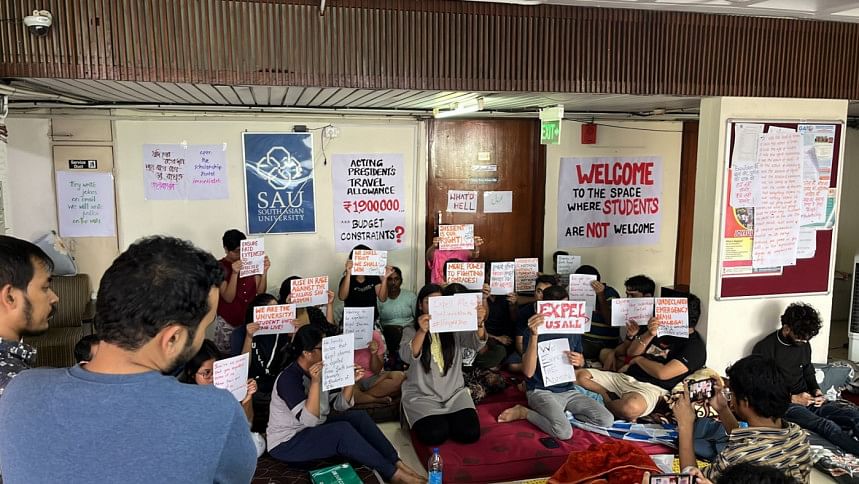 Five suspended students of Delhi's South Asian University (SAU) started an indefinite hunger strike this (November 7, 2022) afternoon after the SAU admin on (November 4, 2022) took action against them including a Bangladeshi PhD candidate over a protest to increase stipend and scholarships.
The SAU admins expelled Umesh Joshi, a PhD student of Sociology, Sahil Kumar Singh, MA student from the International Relations department of the university. The authority also issued a suspension order to Ammar Ahmed, a Master's student in the Sociology department and, Bhim Raj, a master's student of the legal studies department for the current academic year.
Meanwhile Sudeepto Das, a Bangladeshi PhD scholar of the Economics department for the current running semester was suspended.
In 2010, SAU was established through an agreement between SAARC nations (South Asian Association for Regional Cooperation) to provide quality education to its students.
Around 80 students from eight countries already observed 24 hours of hunger strike starting from Saturday ending at 3:00 pm yesterday but the SAU authority did not respond.
The student's general body said, there are around 40 to 50 students from all SAARC nations who will also join with the five students for an infinite hunger strike from this evening for the immediate revocation of the expulsion orders and resumption of dialogue.
"We are observing an indefinite hunger strike for the fulfilment of our demands. As long as the arbitrary expulsion/suspension and rustication notices are not withdrawn, we will not engage with the administration's attempts for negotiation," Umesh Joshi who was expelled from the university told The Daily Star today.
According to the suspension order, authorities said that these students were involved in acts of indiscipline and have violated the code of conduct. Therefore, the authority suspended and expelled them.
SAU students' started their movement for Scholarships and student representation in university bodies on October 13.