Boris Johnson says feels like 'Amitabh Bachchan, Sachin Tendulkar' in India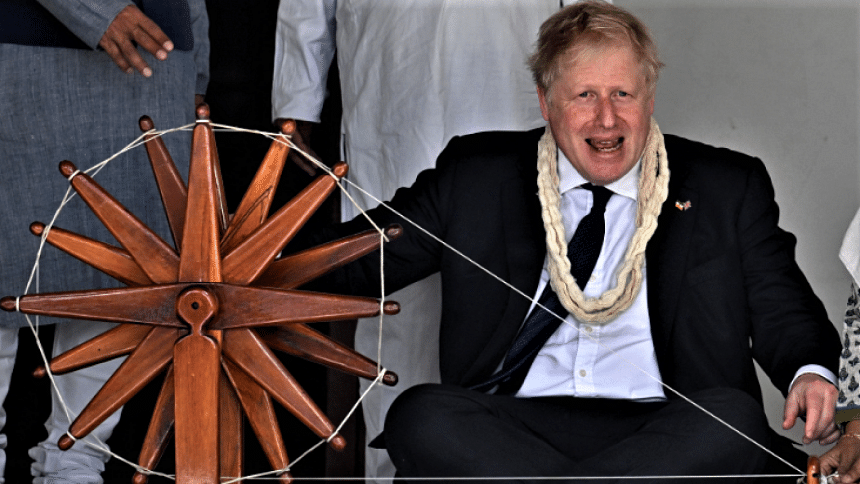 British Prime Minister Boris Johnson was effusive about the warm welcome he got in India, prompting him to describe his Indian counterpart Narendra Modi as a "khaas dost" and gushed that he felt like Bollywood superstar Amitabh Bachchan and cricket icon Sachin Tendulkar.
Johnson kicked off the second day of his official visit to India today by expressing gratitude at a joint media appearance at the Hyderabad House in New Delhi to his "khaas dost" Narendra Modi for the grand reception a day ago in the latter's home state of Gujarat, reports our New Delhi correspondent.
"My friend, Prime Minister Narendra Modi, my "khaas dost" (special friend), we've had a fantastic few days here in India. And yesterday, I became the first Conservative Prime Minister to visit Gujarat, which is your birthplace. I had an amazing reception," Johnson said.
Referring to the reception he got in Gujarat, the UK PM said the grand reception in the western state made him feel akin to celebrities Tendulkar and Amitabh Bachchan.
"I felt like Sachin Tendulkar upon my arrival and also like Amitabh Bacchan when I saw hoardings everywhere. It was fantastic," Johnson who wrapped up his two-day visit, gushed.