After Gyanvapi Mosque, Mathura's Shahi Idgah Masjid faces legal battle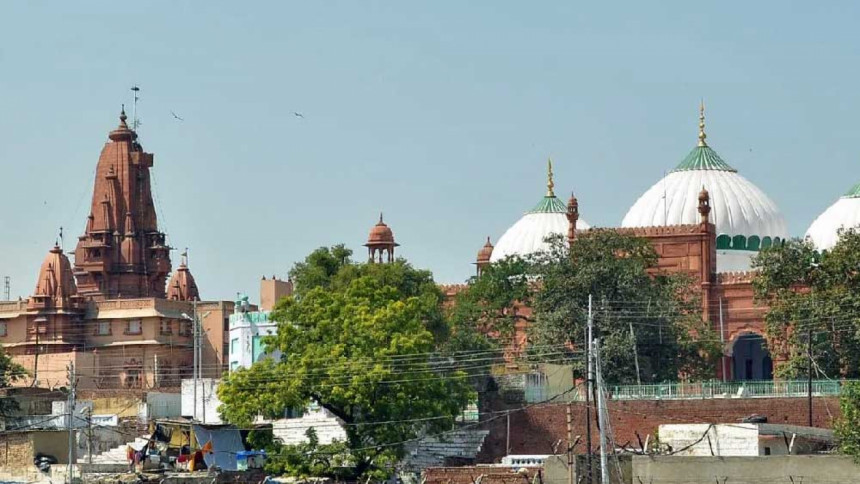 A court in India's Uttar Pradesh state today allowed a lawsuit by Shri Krishna Janambhoomi Trust and other private parties seeking ownership of the land on which the Shahi Idgah Masjid stands in the pilgrim town of Mathura.
The 17th century mosque is believed to have been built in 1669-70, on the orders of Mughal Emperor Aurangzeb, on the 13.37-acre premises of Katra Keshav Dev temple.
Earlier, nine separate petitions were filed in Mathura courts by different Hindu groups seeking ownership of the land on which the mosque stands, reports our New Delhi correspondent.
In one of the multiple pleas filed before the court, the petitioners had sought the court to declare the mosque reportedly built on the temple trust land as "illegal", and hand over the entire land to the de-facto owner, Lord Shri Krishna Virajman.
The petition also sought an inquiry report following excavation of the disputed site under the supervision of the court.
On Wednesday (May 18, 2022), the Mathura court had also allowed a plea to seal the Shahi Idgah Mosque near Krishna Janmabhoomi. The judge said that the next hearing on the petition filed by Mahendra Pratap Singh to seal Shahi Idgah Masjid would be held on July 1.
On May 12, the Lucknow bench of the Allahabad High Court had ordered the Mathura court to dispose of all the cases of the Shri Krishna Janmabhoomi-Shahi Idgah Masjid dispute within four months. The High Court's order came on the plea filed by Narayani Sena national president, Manish Yadav.
Meanwhile, India's Supreme Court today (May 19, 2022) asked a civil court in Varanasi to not proceed with hearing the Gyanvapi Mosque-Kashi Vishwanath Temple case till it takes up the matter on Friday.
On May 17, the top court had directed the district magistrate of Varanasi to ensure protection of an area inside the Gyanvapi-Shringar Gauri complex where a "Shiva linga"  is said to have been found during a videography survey and allowed Muslims to offer namaz and perform religious observances.