45 students injured in Manipur as police charge batons on protesters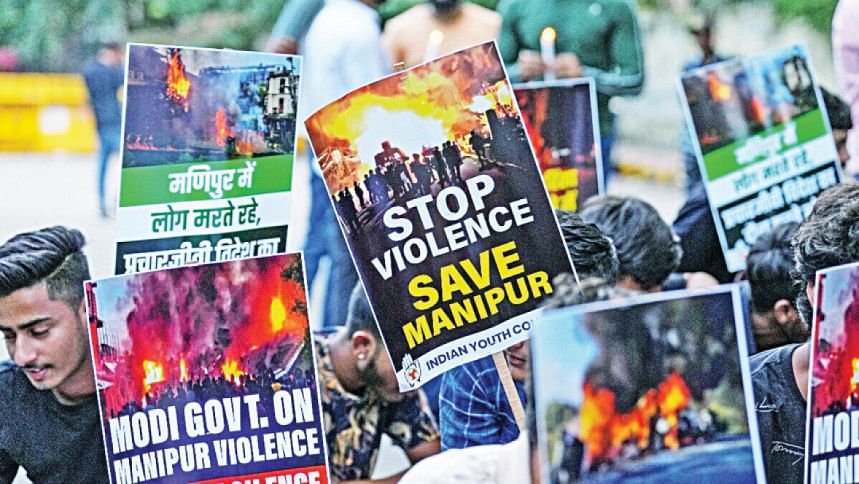 Forty five students, many of them girls, were injured in ethnic strife-hit north eastern Indian state of Manipur's Imphal Valley today when the police fired tear gas shells and baton-charged protesters demonstrating against the killing of two youths who were allegedly kidnapped in July, PTI reported quoting officials said.
In view of the prevailing situation, the state government re-imposed suspension of internet services for five days and announced that all schools in the state will be closed till Friday, reports our New Delhi correspondent.
Mobile internet services were suspended as ethnic violence erupted in Manipur in early May and were restored after over four months from September 23.
Twenty four legislators of Manipur, including 21 of ruling BJP, have urged Indian Home Minister Amit Shah for "urgent necessary action by the CBI against the guilty persons" involved in the killing of two youths.
Students of Imphal-based schools and colleges took out the protest rallies hours after photos of the bodies of the two missing youths went viral on the social media, demanding the arrest of those involved in the killing.
More than 175 people have been killed and several hundreds injured since ethnic clashes broke out in Manipur on May 3 when a 'Tribal Solidarity March' was organized in the hill districts to protest against the majority Meitei community's demand for Scheduled Tribe status.