Taiwan defiant, China fumes
Pelosi leaves the island, reaffirms US support to Taipei; Beijing announces military drills in surrounding waters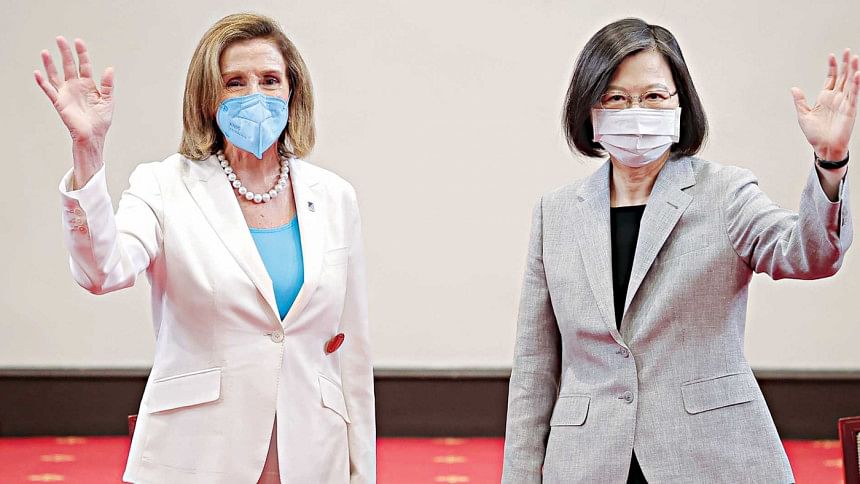 US House of Representatives Speaker Nancy Pelosi left Taiwan yesterday after pledging solidarity and hailing its democracy, leaving a trail of Chinese anger over her brief visit to the self-ruled island that Beijing claims as its own.
China demonstrated its outrage over the highest-level US visit to the island in 25 years with a burst of military activity in surrounding waters, summoning the US ambassador in Beijing and halting several agricultural imports from Taiwan.
Some of China's planned military exercises, which will last till Sunday beginning today,  were to take place within Taiwan's 12 nautical mile sea and air territory, according to Taiwan's defence ministry, an unprecedented move a senior defence official described to reporters as "amounting to a sea and air blockade of Taiwan".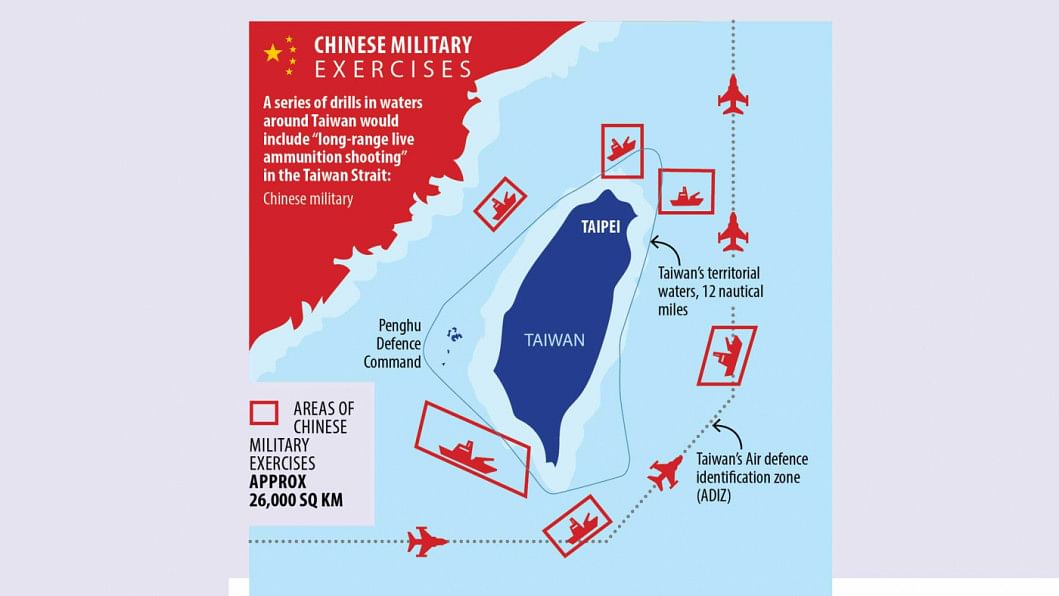 But Taiwanese President Tsai Ing-wen said the island of 23 million would not be cowed.
"Facing deliberately heightened military threats, Taiwan will not back down. We will... continue to hold the line of defence for democracy," Tsai said at an event with Pelosi in Taipei.
Taiwan yesterday scrambled jets to warn away 27 Chinese aircraft in its air defence zone, the island's defence ministry said, adding that 22 of them crossed the median line separating the island from China.
Pelosi arrived with a congressional delegation on her unannounced but closely watched visit late on Tuesday, defying China's repeated warnings, in a trip that she said demonstrated unwavering US commitment to Taiwan's democracy.
"Our delegation came to Taiwan to make unequivocally clear that we will not abandon Taiwan," Pelosi told Tsai Ing-wen, who Beijing suspects of pushing for formal independence - a red line for China.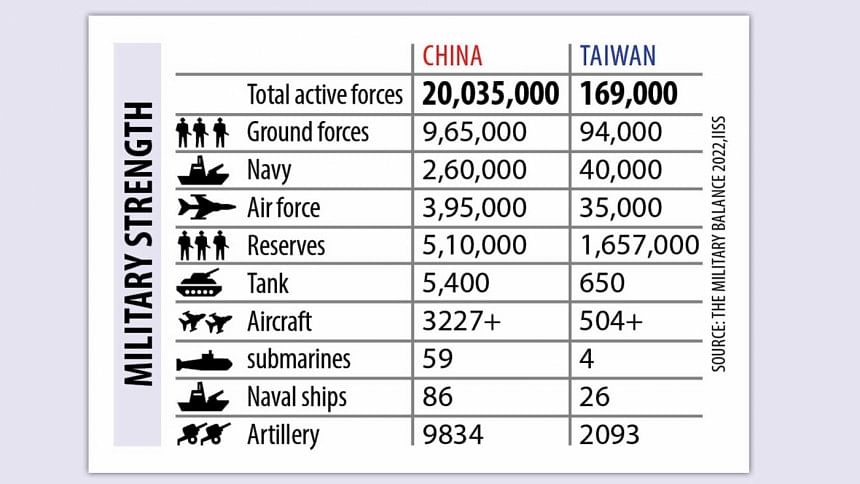 A long-time China critic, especially on human rights, Pelosi met with a former Tiananmen activist, a Hong Kong bookseller who had been detained by China and a Taiwanese activist recently released by China.
Later, arriving in Seoul, South Korea, Pelosi said Beijing cannot prevent world leaders from travelling to Taiwan.
The last US House speaker to go to Taiwan was Newt Gingrich in 1997. But Pelosi's visit comes amid sharply deteriorating Sino-US relations, and during the past quarter century China has emerged as a far more powerful economic, military and geopolitical force.
DEVELOPMENTS IN US-CHINA-TAIWAN RELATIONS
1895
Japan wins the First Sino-Japanese War, and China's Qing government cedes Taiwan to Japan.
1945
After World War Two, Japan surrenders and relinquishes control of territory it had taken from China. The Republic of China begins ruling Taiwan with the consent of the US and UK.
 1949
 Mao Zedong's communists take power in Beijing after defeating Chiang Kai-shek's Kuomintang (KMT) nationalists in a civil war. The KMT-led government retreats to the island of Taiwan, cutting off contact with mainland China.
1950
Taiwan becomes an ally of the United States, which is at war with China in Korea. The US deploys a fleet in the Taiwan Strait to protect its ally from possible attack from the mainland.
1954-1955
 The First Taiwan Strait Crisis: Beijing launches artillery attacks on some Taiwan-controlled outlying islands off China's southeastern coast. Taipei loses its control of some islands and moves remaining forces and residents to Taiwan.
1958
The Second Taiwan Strait Crisis: Beijing launches months-long artillery attacks on the Taiwan-controlled outlying islands of Kinmen and Matsu, both close to mainland China. Taipei fights back with some US-supplied weapons.
1971
Taiwan loses UN seat held since 1946 as the Republic of China, to the People's Republic of China.
1979
The United States endorses the "One China Policy" and switches diplomatic recognition from Taipei to Beijing. 1979
The United States enacts the Taiwan Relations Act, which makes clear that the US decision to establish diplomatic ties with Beijing rests upon the expectation that the future of Taiwan will be determined by peaceful means.
1982
US President Ronald Reagan adopts Six Assurances to Taiwan, including a pledge not to alter the Taiwan Relations Act.
1996
Third Taiwan Strait Crisis: Taiwan holds its first direct presidential vote. In reaction, Beijing launches missiles into waters near Taiwan; Washington dispatches aircraft carriers to the region.
2000
Chen Shui-bian is elected Taiwan president, marking the first time in power for the Democratic Progressive Party (DPP), which supports Taiwanese sovereignty and formal independence.
2005
Beijing adopts an anti-secession bill in March that makes secession by Taiwan illegal.
2016
US President-elect Donald Trump breaks decades of US diplomatic precedent by speaking directly, by telephone, with President Tsai Ing-wen.
2017
Trump administration approves $1.4 billion worth of arms sales to Taiwan, prompting anger from Beijing.
2018
 Trump signs legislation that encourages the United States to send senior officials to Taiwan to meet Taiwanese counterparts and vice versa, again infuriating China.
2018
The US State Department approves the sale to Taiwan of spare parts for F-16 fighter jets and other military aircraft worth up to $330 million, drawing a warning from China that it jeopardises cooperation between Beijing and Washington.
2022
US President Joe Biden and Chinese President Xi Jinping hold a two-hour call.
August 2
US House Speaker Nancy Pelosi lands in Taiwan in an unannounced visit despite China warnings.
(Reuters)
China considers Taiwan part of its territory and has never renounced using force to bring it under its control. The United States has warned China against using the visit as a pretext for military action against Taiwan.
In retaliation, China's customs department announced a suspension of imports of citrus fruits and certain fish - chilled white striped hairtail and frozen horse mackerel - from Taiwan, while its commerce ministry banned export of natural sand to Taiwan.
Fury on the mainland over Pelosi's defiance of Beijing was evident all over Chinese social media, with one blogger railing: "this old she-devil, she actually dares to come!" Pelosi is 82.
Before Pelosi's arrival, Chinese warplanes buzzed the line dividing the Taiwan Strait. The Chinese military said it was on high alert and would launch "targeted military operations" in response to Pelosi's visit.
White House national security spokesperson John Kirby said after Pelosi's arrival in Taiwan that the United States "is not going to be intimidated" by China's threats or bellicose rhetoric and that there is no reason her visit should precipitate a crisis or conflict.
US Secretary of State Antony Blinken discussed the potential for Pelosi's visit with counterpart Wang Yi during a G20 meeting in Bali last month, and said any such trip would be entirely Pelosi's decision and independent of the US government, a senior US official said yesterday.
The United States has no official diplomatic relations with Taiwan but is bound by American law to provide it with the means to defend itself. China views visits by US officials to Taiwan as sending an encouraging signal to the pro-independence camp on the island. Taiwan rejects China's sovereignty claims, saying only the Taiwanese people can decide the island's future.
Despite all its aggressive posturing, few believe Beijing wants an active military conflict against the United States and its allies over Taiwan -- just yet.
"The last thing (Chinese President) Xi Jinping wants is an accidental war ignited," Titus Chen, an associate professor of political science at the National Sun Yat-Sen University in Taiwan, said.
Multiple scholars noted that Beijing's military capabilities still lag behind Washington's, and told AFP that recent military drills, while clearly intended to be intimidating, fell short of targeting areas immediately adjacent to the Taiwanese coast.
According to analysts who talked with AFP, Xi Jinping is anxious to project strength against the United States -- its greatest military and economic rival -- ahead of a key political meeting expected to secure him an unprecedented third term.
Drumming up nationalist sentiment also serves to distract from China's slowing economy and growing public impatience with Beijing's harsh zero-Covid restrictions that have dampened the mood in what would have been a jubilant year for Xi.
However, the risk of escalation can't be ruled out during military drills.
Singapore-based security scholar Collin Koh said the Pelosi visit had trapped China between having to show a resolute and sweeping response while avoiding a full-blown conflict.
"Even if they want to avoid that outcome, there are still significant possibilities for an accidental escalation," said Koh, of the of the S. Rajaratnam School of International Studies.
Song Zhongping, a Hong Kong-based military commentator, said it appeared the People's Liberation Army wanted to practise blockading the island if it had to in a later war.
"The goal of these exercises, to put it bluntly, is to prepare for the military fight with Taiwan."