2 Buddhist temples attacked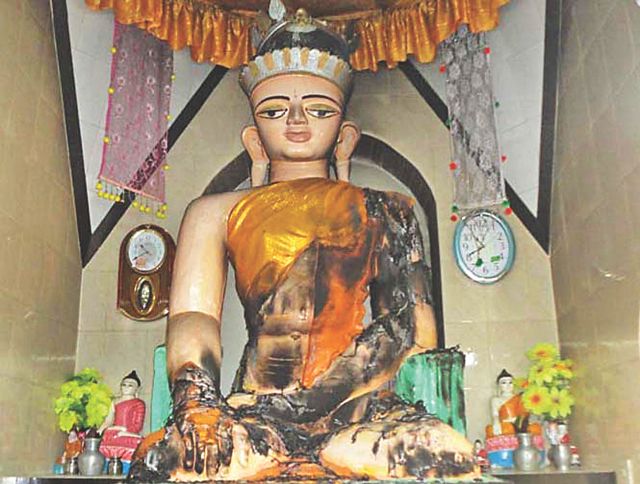 Criminals torched the Buddha idol in Shakyamuni pagoda of Boalkhali in Chittagong after breaking into the monastery early yesterday. They burnt its robe but managed to make way with five smaller idols and the donation box. Photo: Star
Mystery shrouds arson attacks on Buddhist temple and orphanage at Patiya, and looting and vandalism at another temple at Boalkhali in the last three days.
The incidents, carried out in similar fashion, have sent shock waves through the Buddhists in the areas. They hark back to September last when two temples were vandalised at Kolagaon union in Patiya. Also that month, fanatics destroyed 18 Buddhist temples, monasteries and more than 50 houses at Ramu upazila in adjoining Cox's Bazar district.
On Saturday, a fire broke out at Dhatu Chaittya Bihar under Mukut Knight village in Patiya around 3:00pm.
Suman Sri Vhikhu, chief monk of the temple, told The Daily Star that it was an arson attack, but he did not know who were behind it.
Suman said he was at Patiya Sadar to buy some religious books for the temple when the arson took place.
"When I returned, I found all valuables, including my laptop, TV and furniture in my room of the temple, gutted by the flames," he said, adding that the Sramons (junior monks) and villagers doused the fire later on.
None of the neighbourhood could also say who set fire to the temple.
Around the same time the following day, the temple's orphanage was burned down. Again, no one knew who committed the arson.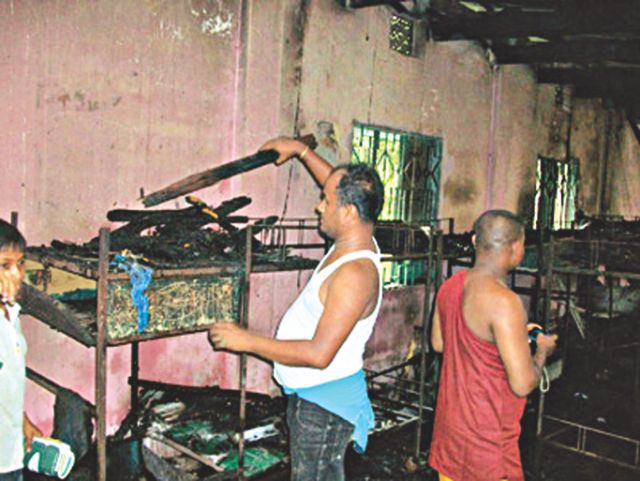 Monks inspect the damage after a mysterious fire ravaged a pagoda in Patiya upazila. Photo: Star
No one was hurt as children were attending school at that time, the chief monk said, adding that firefighters from Patiya rushed to the spot and doused the fire.
Mafiz Uddin, officer-in-charge of Patiya Police Station, said police had visited the spot and were looking into the matter.
Upazila Chairman Idris Mian, and Upazila Nirbahi Officer Rokeya Parveen also visited the spot and assured the local Buddhist community of safety.
In neighbouring Boalkhali upazila, unidentified criminals broke into Shakyamuni Buddhist temple at Jaisthapura village in the early hours yesterday.
The temple's monk, Ginanonda Mohathero, said, "The miscreants vandalised the place of worship, set fire to 'chibor', robe of idol Buddha; pilfered five small idols, and a donation box of the temple."
He said the monks were asleep at that time.
Jahirul Haque Sabuj, officer-in-charge of Boalkhali Police Station, told The Daily Star that they had visited the spot.
He said it might be a robbery.
On September 12 last year, fanatics went on the rampage at Ramu in Cox's Bazar following a posting demeaning the Holy Quran from a fake Facebook profile.
Several hundred statues of Lord Buddha were looted from different monasteries during the mayhem.