Reckitt share prices soar 31pc on dividend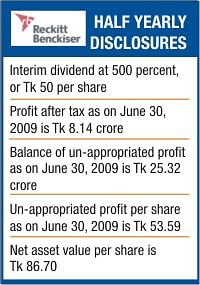 Reckitt Benckiser share prices shot up yesterday by more than 31 percent following a surprising interim dividend declaration that attracted investors to bet on the multinational FMCG (fast moving consumer goods) company.
Having no price limit on the company share trading, each share opened at Tk 990 on the Dhaka Stock Exchange and rose as high as Tk 1250 before closing at Tk 1013.
The company on Thursday announced through the DSE website that the board of directors had recommended 500 percent, or Tk 50 per share interim dividend for the year ending December 31, 2009.
Market insiders said the declaration came as a surprise to the market since the interim dividend hardly matches with its previous track record.
Prior to Reckitt Benckiser, another multinational company -- BOC Bangladesh -- also recommended 100 percent, or Tk 10 per share interim dividend in the third week of last month.
The two declarations heightened investor expectations for such dividend from other multinationals, too.
Meanwhile, Dhaka stocks gained for a fifth day.
The benchmark DSE General Index rose 26.48 points, or 0.9 percent to 2,941.01. The DSE All Share Price Index increased 22.54 points, or 0.92 percent to 2,463.86.
The advancers beat the losers 167 to 66. Two securities remained unchanged. A total of 5,49,55,014 shares worth Tk 688.61 crore were traded on the premier bourse.
Titas Gas topped the turnover leaders, with 5,94,600 shares worth Tk 41.02 crore being traded.
Chittagong stocks also continued to gain. The CSE Selective Categories Index increased 57.12 points, or 0.89 percent to 6,443.36. The CSE All Share Price Index rose 99.71 points, or 0.97 percent, to 10,280.79.