Songs from Rajshahi on tonight's Shera Kantho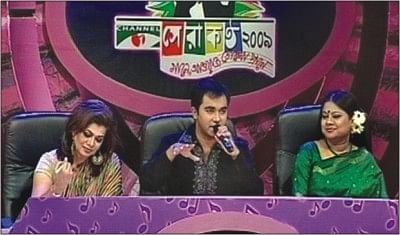 Tonight's episode of the "Lal-Sabuj" segment of musical talent hunt "Channel i Shera Kantho '09" will feature songs from the Rajshahi region. Seventeen contestants from the Rajshahi zone will perform regional songs in tonight's episode. The "Lal-Sabuj" segment, featuring regional songs, started couple of weeks ago.
Renowned singers Shakila Zafar, Kanak Chanpa and music director Emon Saha are judging this round.
A special episode featuring songs on/related to Dhaka is the highlight of this round. Hosted by Tajzi, the programme is aired at 7:50pm every Tuesday.