Park fails to catch wave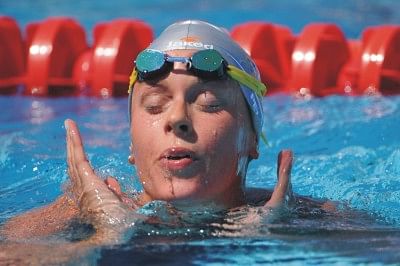 Olympic champion Park Taehwan couldn't catch the wave of fast times that launched the Swimming World Championships Sunday, failing to reach the final of the 400m freestyle.
Predictions that the current crop of high-tech swimsuits would produce a welter of records in Rome before the technology is rolled back by swimming authorities next year appeared to be on target as seven championship records fell in the first day's heats.Park, however, never looked like a contender, finished third in his heat in an unimpressive 3min 46.04sec and failing to book his berth among the top eight for Sunday night's final.
"I did my best, but I'm very disappointed that I'm not going to be in the final," said Park, who still has the 200m free - against world record-holder Michael Phelps - and the 1,500m free to swim in Rome.
"I'm surprised, too," added Park, who was also the defending world champion and won Olympic gold in an Asian record of 3:41.86. He was thought to be closing in on the world record of 3:40.08 set by Australian great Ian Thorpe in 2002.
"I couldn't get enough rest after the Olympics. I worked hard in 2005, 2006, 2007, 2008 with no rest," Park said. "That was the problem."
American Peter Vanderkaay was the only swimmer to advance from the final heat, winning it in a time of 3:45.40.
Germany's Paul Biedermann led the way into the final with a time of 3:43.01, with China's Zhang Lin second-quickest in 3:43.58 and Tunisia's Oussama Mellouli third-fastest in 3:43.78.
In the women's 400m free, Italy's Federica Pellegrini thrilled the home crowd by flirting with her own world record, before settling for a championship record of 4:01.96.
Championship records also fell in the women's 100m butterfly and 200m individual medley and the men's 100m breaststroke and 50m fly and the men's and women's 4x100m freestyle relays.
Pellegrini, buoyed by the support of Italian fans, went off like a rocket and was under world record pace through the first half of the 400m free. She had another shot to improve on the world mark of 4:00.41 she set last month in Sunday evening's final.
American Allison Schmitt was next-fastest in 4:02.80, while Olympic gold medallist Rebecca Adlington of Britain just squeaked into the final with the eighth-fastest time of the morning of 4:05.70.
"At the start, I was pushing hard," Pellegrini said. "I wanted to test out the pool. After 200 meters, I realized how fast I was going and I slowed down. Then when the American (Schmitt) came up on me, I started pushing again to make sure I got first place and lane four for the finals."
Sweden's Sarah Sjostrom topped the women's 100m butterfly heats with a championship record of 56.76, ahead of American Dana Vollmer, Austraian Jessicah Schipper and China's Zhou Yafei.
Schipper, wearing a new adidas swimsuit, clocked 57.17.
"This is the first time I've worn this suit in a race, so I'm very happy with it," Schipper said. "That's my fastest heat. Hopefully it will keep going the right way.
"Everyone seems to be swimming quite fast," she added. "It will definitely be an interesting final."
American Ariana Kukors, wearing the all-polyurethane Jaked suit, paced the 200m individual medley prelims with championship record of 2:08.53. She was eight-hundredths outside the world record held by Australian Stephanie Rice, who was third-fastest behind Hungary's Katinka Hosszu.
South African veteran Roland Schoeman and Spain's Rafael Munoz shared a meet record of 22.90 in the 50m butterfly. Munoz set the world record of 22.43 in April.
Aussie Rickard Brenton led the way into the 100m breaststroke semifinals with a championship record of 58.98, ahead of France's Huges Duboscq and American Eric Shanteau.