Zelaya pledges resistance, asks US for sanctions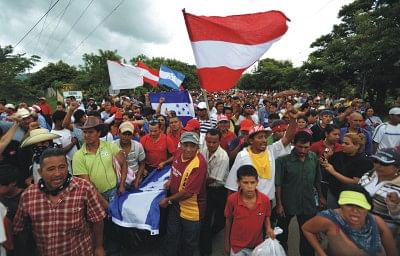 Ousted Honduran President Manuel Zelaya has pledged continued defiance of a conservative-backed coup that sent him into exile and called on the United States to impose sanctions on his country's military and civilian leaders.
A Honduran man was found dead Saturday on a road close to Nicaragua as Zelaya came back to the border for a second day to attempt to return home.
"We are organizing the resistance," a defiant Zelaya declared, saying he had set up camp some 100 meters (yards) from the border with his country, but inside Nicaragua, where he planned to stay at least through Sunday.
"Let us not be afraid. We are going for social reform, we are doing this for the presidency of Honduras and to see the coup plotters expelled," the elected president told reporters in what he called a "symbolic show of sovereignty."
The former rancher, who veered to the left after taking office, was ousted amid fears he sought to extend his rule.
Almost a month after he was bundled out of bed by the army and sent into exile, about 100 supporters who arrived here over the past three days were rallying around their leader, decked out in his trademark cowboy hat.
Meanwhile, the Honduran Embassy in Washington announced that Zelaya had asked US President Barack Obama in a letter to prohibit bank transactions and cancel the US visas of individuals "directly responsible for my abduction and the interruption of constitutional order in my country."
The list includes de facto Honduran president Roberto Micheletti, Attorney General Luis Alberto Rubi, public prosecutor Rosa America Miranda, and all the heads of armed forces branches led by General Romeo Vasquez Velazquez, head of the Joint Chiefs of Staff.
"We believe that the measures that we are asking the US administration to take will exercise direct pressure on the perpetrators of the coup without causing any sort of negative impact on the people of Honduras," said Enrique Reina, Zelaya's new ambassador-designate in Washington.
But in a move seen as a step back from confrontation, the Honduran military expressed Saturday its full support for Costa Rica-mediated talks on resolving the Honduran crisis "in the framework of the San Jose Accord" and voiced its "unrestricted support" for a negotiated outcome.
The accord, proposed by Costa Rican President Oscar Arias, called, among other things, for Zelaya's restoration in power in Honduras, although with limited powers.
The Costa Rica talks have failed so far to produce a deal because the Micheletti regime has steadfastly refused to accept Zelaya's restoration to the presidency.
The New York Times said the Honduran military communique, posted of the armed forces' website was drafted in Washington after days of talks between mid-level Honduran officers and US congressional aides and was "significant" because it was the first sign of support for the San Jose accord by a powerful sector of the de facto government.
Tensions soared on the border, with some 3,000 army and police staff rolled out to enforce the will of Micheletti.
Zelaya supporters, who defied a daytime curfew to gather near the border hoping to welcome back their president, blamed Honduran police for Saturday's death of the man identified by friends as 23-year-old Pedro Madriel Munoz Alvarado.
The body was found next to a coffee field, bearing knife gashes and signs he had been beaten.
Aides would not confirm whether the deposed president would again attempt to cross into Honduras, as the interim regime tightened control on the region close to Nicaragua.
Soldiers expelled Zelaya from the country at gunpoint on June 28 in a move supported by Honduras's courts and legislature as he sought to hold a referendum on changing the constitution to allow him to seek reelection.
Meanwhile, Micheletti said that he has invited representatives from Germany, Belgium, Canada, Colombia, Panama and Japan "to join as observers of the dialogue that takes place in Costa Rica" under the mediation of Arias, the 1987 Nobel Peace laureate.
Regional powers, including the United States, have backed Zelaya's quest to return constitutional order in Honduras, but many urged him not to come back for fear of bloodshed.