Consumers deeply hurt by price hike of essentials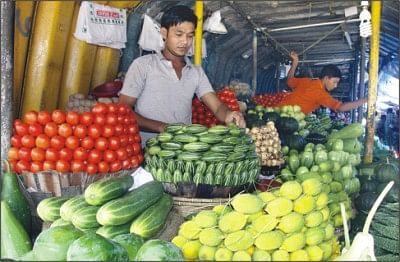 Consumers called on the administration to rein in the price hike of essentials as a section of traders are in frenzied spree to increase prices of essential food items and commodities in Chittagong ahead of the holy Ramadan showing lame excuse of 'poor supply'.
Consumers stressed the need for immediate measures by the administration to monitor both the wholesale and retail markets to keep the prices within buyers' capacity.
Prices of non-brand edible oil, green chili, vegetables, egg, broiler chicken and different spices went higher last week in Chittagong markets.
People from low-income groups are the worst sufferers as the prices of vegetables are beyond their purchasing capacity. Vegetables are now selling above Tk 20 per kilogram at kitchen markets including Kazir Dewry Market, Reazuddin Bazar, Karnaphuli CDA Market, Karnaphuli Complex and Bakshirhat.
On a visit to different kitchen markets retailers were found selling lady's finger at Tk 30 to Tk 32 against its previous price of Tk 22, kakrol at Tk 26 to Tk 30 against Tk 20, long bean at Tk 30 against Tk 24, green papaya at Tk 20 against Tk 15, arum at Tk 32, jhinga at Tk 32 and bitter gourd at Tk 30 and cucumber at Tk 26 against its previous price of Tk 18.
Potato price went up to Tk 26 while it was Tk 18 to 20 two weeks ago. Retailers alleged a section of middlemen are behind the price hike of potato despite huge stock at present.
Only pumpkin (misti kumra) is now available and price is below Tk 20 per kg, said Harun, a CNG-run autorickshaw driver at Karnaphuli market. "I have bought one kilo pumpkin at Tk 18 while other vegetables at higher prices," he added.
Prices of green chili went up to Tk 200 per kg one week ago. It, however, came down to Tk 120 on Tuesday.
Jishu, a retailer, blamed a section of middleman in the wholesale markets for the price hike of chili taking the advantage of poor supply due to incessant rain over the few weeks as well as for the poor import.
Wholesale traders in the Reazuddin Bazar through syndicate increased the price of chili by Tk 100 in a span of four days since July 12, alleged the retailers.
A wholesaler, however, refused the allegation of forming syndicate and blamed the poor supply for the price hike due to rainfall.
Onion is still pricey in the retail markets and selling at Tk 22 to Tk 24 a kg though the price comes down to Tk 16 in Khatunganj Wholesale Market.
Wholesale prices of different non-brand edible oil like palm oil and super palm oil were increased by Tk 100 per maund last week. Palm oil price went up to Tk 2150 from Tk 2060 while super palm Tk 2350.
Traders in different kitchen markets were selling broiler chicken at Tk 125 to Tk 130 per kg while it was Tk 120 last week.
Price of eggs, however, rose by Tk 2 to 4 per hali (four pieces) in one week. A dozen of eggs was selling at Tk 100 at the kitchen markets.
Retail price of both Indian and locally produced garlic shot up to by Tk 15 to 30 per kg. Indian garlic was selling at Tk 44 to 48 per kg against Tk 32 to 34 while retail price of good quality local garlic rose to Tk 120 from Tk 90.
Price of Chinese ginger also rose by Tk 6 per kg while it reached at Tk 60 from Tk 54. Good quality ginger from Rangamati was selling at Tk 120.
Giasuddin, a retailer at Karnaphuli market, said poor supply of the items due to incessant rain over the last few weeks caused the price hike.
Shamsuddoha, a wholesaler of Khatunganj, urged the administration to monitor both the markets for keeping the price gap between the two markets at reasonable level.
Kamrul Islam, a banker, echoing the same said if initiatives are not taken soon the price situation might be difficult during the Ramadan.
Chittagong Chamber of Commerce and Industries (CCCI) President and Awami League lawmaker MA Latif said they will form a monitoring cell comprising wholesalers, retailers, business leaders, consumers' representatives, journalists and lawmakers to keep eye on both the markets from before the Ramadan.