Long march against Tipai dam begins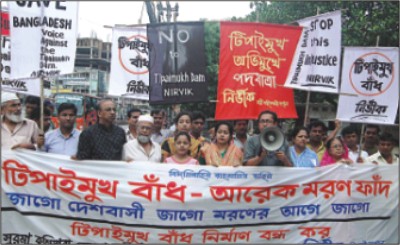 Nirbhik, an environmental organisation, started a long march yesterday from Dhaka to Jakiganj in Sylhet to create public opinion against the Indian move to construct Tipaimukh dam on the cross-border river Barak.
Leaders and activists of Nirbhik started the road march from Muktangan at 9:00am which will end at Amalshid of Jakiganj after passing through Chittagong Road, Kanchpur, Vulta of Rupganj, Gausiya, Baburhat, Narsingdi, Raipura, Ashuganj, Bhairab, Brahmanbaria, Madhabpur Srimangal, Sherpur, Sylhet Surma, Kadamtali and Etimganj Bazar.
Led by Nirbhik Chief Coordinator ATM Kamal, the long march is being participated, among others, by Md Shahjalal, Nur Mohammad, Amir Hossain Kamal and Md Ilias.
During the long march they will hold street rallies at different places and meet with different social, cultural and environmental organisations to make people aware of the disastrous effects of the proposed dam.
Earlier at a rally at Muktangan, the speakers said even the Indian citizens have taken stand against the dam as the people of Manipur, Mizoram and Asam will be seriously affected, and the water flow of Barak and other rivers will be reduced to 17354 cusec.
Besides, a large areas adjoining the dam will be submerged and 1320 indigenous families will be evicted, they said.
The Indian government has also a plan to build an irrigation barrage at Fulartole to withdraw a huge amount of water from Barak during the winter season for agriculture, they added.
As a result, different water bodies and branches of different rivers will be deprived of water and the desertification process will start in the areas.
Besides, the salt water from the sea will penetrate into the country damaging the soil and agriculture.
During the lean season, greater Sylhet, Comilla and part of Mymensingh will become dry and waterless while during the rainy season these areas will be flooded, they said.
The speakers demanded cancellation of all activities related to the construction of Tipaimukh dam and barrage at Fulartala, and refrain from constructing any dam on the cross boundary rivers without any consultation between the two countries.