Policy reforms can take Bangladesh off LDC list
Economists tell launch of Unctad report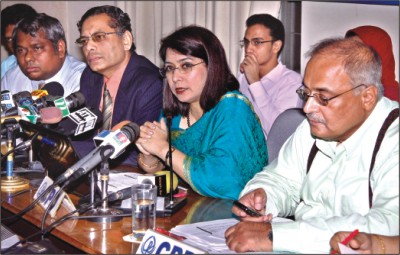 Had Bangladesh reformed its policies and strengthened institutional capacity, it would have come out of the LDC status much earlier than a UN agency prediction, an economist said at the launch of a UN report in Dhaka yesterday.
"It is possible for Bangladesh to come out of the LDC status by 2015, although Unctad predicts the upgradation by 2024," said Dr Debapriya Bhattacharya, distinguished fellow of the Centre for Dialogue (CPD), a private think tank.
"Two tasks have to be done and ensured -- policy reforms and strengthening of institutional capacity," he said.
The Unctad LDCs Report 2009: The State and Development Governance was unveiled by Fahmida Khatun, the CPD's additional director (research).
The LDCs (least developed countries) category was established in 1971, and since then, only two countries -- Botswana in 1994 and Cape Verde in 2007 -- have graduated to developing nations. Samoa is expected to get out of the LDC list in December 2010 and the Maldives in January 2011.
Now the number of LDCs is 49.
Referring to the report by the United Nations Conference on Trade and Development, which suggests good development governance, Bhattacharya said, "If development could not be brought in the centre of good governance, neither development nor good governance is possible."
The economist was upbeat on Bangladesh's graduation to a developing country, linking it to the effectiveness of both the state role and market system.
He pointed out that Bangladesh's economy and human assets will be a good support in coming out from the world's poor-country club. Bhattacharya, however, said, "The global climate change will be a concern for the country, as this change will enhance economic vulnerability or risks," he said.
Pointing to a change in the traditional thinking for development on the back of the recent global financial downturn, he said, "Each country will have to think now for development in its own way."
He also stressed a private-public coalition to ensure investment in every sector for development.
According to the Unctad report, six LDCs, including Bangladesh, did not prioritise governance in their Poverty Reduction Strategy Papers, or PRSP.
While presenting the report, the CPD's additional research director pointed to its observation that inflation rate was not a major problem in recent days. Fahmida said the high real rate of interest is a concern for investment.
"Such a rate jeopardises long-term growth by raising the cost of making public and private investment," she said.
The Unctad report lauded Bangladesh's ability to manage the food crisis during late 2007 and early 2008 through the public food distribution system.
However, the report pointed to Bangladesh's food security's vulnerability to climate change.
The UN report also pointed out that despite LDCs' recent strong performance, high growth rates were unlikely to be sustained in these countries given their excessive dependence on commodity and low-tech manufactures exports, and their vulnerability to volatile external markets.
It said in Bangladesh, the industry sector, the growth of which relied on manufacturing sector (readymade garments, or RMG), contributes about 27 percent to the gross domestic product (GDP) in 2009 and grew at a rate of around 5.9 percent.
Although the RMG sector has created positive externalities and multipliers for economic development, productivity is still low, the report noted.
The report also forecast a 2.7 percent real GDP growth for the LDCs as a group in 2009, a decline from an average of 7.4 percent during 2003-08.
LDCs exports are expected to contract by 9-16 percent this year, while foreign direct investment and remittance to LDCs are also set to decline, it said.
Unemployment, poverty and hunger are likely to rise, according to the report.
CPD Executive Director Mustafizur Rahman was also present at the function.