Ha-Meem factories burned down
50 more garment factories also vandalised over pay-hike; police, Rab watch as Ashulia mayhem enters third day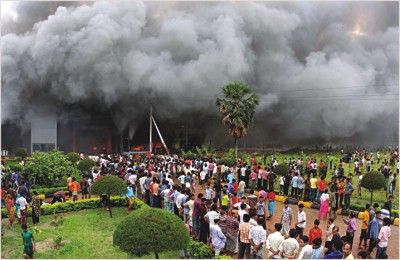 Garment workers burned down six factories, two warehouses and several vehicles of Ha-Meem Group at Ashulia on the outskirts of the capital yesterday.
They also vandalised 50 other factories and over 20 vehicles.
Over 20,000 demonstrators stormed the Ha-Meem Group complex at Narasinghapur at around 10:00am and set fire to the factories inside after pouring petrol, said witnesses.
Earlier, the stone-throwing rioters damaged factories and shops on either side of the Ashulia-Bypile road and smashed up vehicles.
The apparel group came under attack as its workers did not join the protest over the death of two workers in clashes with Ansars and police on Saturday and Sunday.
It all began on Saturday with workers demonstrating for a pay hike.
On the third day yesterday, scuffles broke out when Ha-Meem's employees tried to resist the attackers. At least 30 persons from both sides were injured at that time.
Vehicular movement on Ashulia-Bypile and Nabinagar-Tangail roads halted with the demonstrators putting up barricades.
Traffic remained suspended and educational institutions, offices and businesses closed for over eight hours.
Police fired teargas to stop those on the rampage, but to little avail. The demonstrators ran riot for three hours at a stretch, leaving the area strewn with glasses and furniture shattered to pieces.
Locals said police and the Rapid Action Battalion did not do much to quell the violence.
Firefighters reached the scene after around two and a half hours. By that time, the factories and warehouses were completely gutted, they added.
Zahidul, a worker of the Ha-Meem Group, told The Daily Star, "We tried to protect the factories, but failed. During the attack, they looted our office buildings."
Fire service sources said 16 units from Savar, EPZ, Tongi and headquarters worked for hours to douse the flames.
MM Islam, executive director-2 of Ha-Meem Group, told The Daily Star that they had lost a sweater factory, three garment factories, two washing factories, two fabric storehouses and four vehicles in the arson attack.
Columns of thick black smoke could be seen from a distance, he continued.
Over 8,000 machines, a huge quantity of readymade garments, fabrics and other valuables were reduced to ashes. He however could not give an estimate of the damage.
Islam said, "The raiders got furious as our 14,000 workers did not join the demonstrations."
He alleged the attack was part of a conspiracy against their group.
"Had the firefighters and police reached timely, they could have saved the factories that produce around 1,00,000 pieces of garment a day," observed the official.
Dhaka District Superintendent of Police Iqbal Bahar described the violence for three days in a row as subversive acts.
He admitted they had failed to sense that things could spiral out of control.
"An additional 400 policemen stood guard in front of the major factories. We tried our best to disperse the crowd, but they were too many and too fierce."
He, however, claimed they have identified the masterminds behind the attacks.
"We had a successful meeting with all concerned on Sunday night. We thought there was little possibility of a further clash. But some people from outside incited the workers to fresh violence."
Around 400 factories were kept shut yesterday following clashes on the previous two days.
Several hundred workers of the closed factories tried to enter the Export Processing Zone at around 8:00am, but police and security guards foiled their attempt, witnesses said.
They gathered in front of Fantasy Kingdom at around 9:30am and held a rally led by labour leader Montu Ghosh.
They attacked at least 50 factories on both sides of the Ashulia-Bypile road while marching towards Ha-Meem Group complex.
Monwar Hossain, officer-in-charge of Ashulia Police Station, said none was arrested and no case filed as of filing this report at 1:00am.