Aircraft crunch clips Biman's wings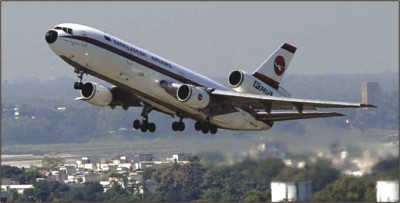 Biman is struggling to operate flights on its existing international routes in the face of operational aircraft dearth, officials said.
The troubled airline has recently been forced to suspend flights to two destinations -- New Delhi and Bangkok -- until end-September and trimmed flights on three other routes -- Kuala Lumpur, Singapore and Karachi, as its flyable aircraft on the global routes came down to four.
The latest cutback in flights came after the carrier had returned two leased Boeing 737-800 aircraft to the lessor at a time when a couple of its aircraft remained grounded on technical glitch.
The airline, with four operational aircraft, now runs flights on 16 international routes, down from 18 a month ago.
"We had to cut flights because of aircraft shortage," Muhammad Zakiul Islam, managing director and chief executive of Biman, told The Daily Star, yesterday.
Gripped by aircraft crunch and a poor travel demand amid recession, the carrier had earlier trimmed flights to several destinations such as Jeddah and Riyadh.
Officials said aircraft shortage has become an added problem for the losing carrier, which is suffering from a price war on several routes as its competitors are cutting down fares. A lack of traffic to Bangkok and Delhi also prompted the decision of flight suspension.
But the main cause of slashing flights to three destinations is aircraft shortage, officials said.
Biman has reduced three flights to Kuala Lumpur, two to Singapore and one to Karachi with officials expecting the situation to continue until leased planes join the Biman fleet.
Zakiul, also a former air force official, was however hopeful about a recovery from current aircraft dearth. He said the recently grounded A-310 would join the fleet within a couple of days, while another grounded DC-10 would be operational by the end of July.
"We hope to come out of the aircraft shortage within October this year," he said, adding that the carrier recently floated tenders for leasing two Boeing 737-800 and three 777-200/200ER aircraft.
But given the Biman's record of delays in procurement due to frequent changes in decisions, industry analysts found a little prospect of a quick addition of leased planes to its fleet unless the carrier takes decision faster this time.
"Recession has cut demand for flying, making aircraft available for leasing. It may continue for some more months," said Imran Asif, an aviation industry consultant.
"But Biman will have to take decision fast to get lease of aircraft as some other airlines are also looking for strengthening their fleet through leasing. Unless decision comes fast, Biman may lose its chance to address aircraft shortage," he said.