For innovative police management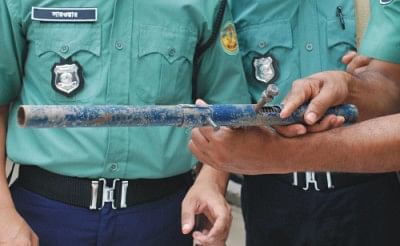 There is no denying that serious efforts to understand the dynamics of disorder in our situation has to focus on identifying the causative factors and then possibly arrive on a broad consensus. The unfortunate part is that somehow the callousness of the police, their role as militarised force, and the alleged incompetence in preventing or detecting crime, the widespread corruption and indecorous behaviour have been taken for granted.
The reality in Bangladesh is that the increase in crime and the deterioration in the law and order situation are often rationalised on one flimsy or another untenable ground. While patronage of criminals by politically powerful people, weakening of governmental authority, political interference in police recruitment, transfers and postings, promotions and lack of proper training do have substantial impact the inescapable fact remains that police officers themselves will have to clear the mess.
However, if the causes behind the constraints are not looked into in serious earnest then we would have to believe in the magical powers of the police in performing their statutory functions.
Whenever order breaks or crime registers an upward trend, the normal reaction or prescription is to demand more manpower, more vehicles, more arms and ammunition, more powers or special cadre of personnel. The question is, can we make do with less powers and resources?
How about serious and sustained campaign to win the trust and confidence of the general population? It would not be realistic to deny that there is a general sense of alienation and fear mixed with hatred that has given rise to an adversarial relationship between the police and the general people. This task, however, cannot be accomplished if the political leadership continues to ignore the requirements of a free and democratic society.
Our police have not changed behaviourally because even after 38 years of independence our people have little sense of participation in the process of governance. Our people cannot demand protection or security as a matter of right because they have not been empowered by political education and institutional reforms. Therefore, in relation to police as also other public servants the worst form of patron-client relationship continues.
People do not consider police institutions as their own. In fact, at places it has acquired a fearful dimension. However, very few amongst us appear to be serious and concerned about the increasing brutalisation of our police force.
The unlimited powers of arbitrary arrest by the police, a legacy of colonial rule, have not been sobered by the proper inculcation of skills in scientific detection and investigation of crimes, as should be the case in an independent polity. On the contrary, we have the unfortunate experience of seeing successive governments using the police to harass and intimidate their political opponents.
When police gets politicised and is used as the instrument of coercion, it naturally changes its outlook, behaviour and attitude. Quite naturally, that has far-reaching implications for the work ethic and efficiency. In seminars and symposiums animated discussions point to the inevitability of an independent, neutral, non-partisan, humane and professional police service but what is done in practice is quite the opposite.
The question is how much physical changes have taken place in our police station buildings since independence? The living conditions are quite often dehumanising. Therefore, perhaps not much can be expected in terms of appropriate behaviour from stressed personnel at the prime service delivery point.
The need of an innovative approach in our police management perhaps merits consideration at this point of time. Can we examine the whole problem of law and order from a sociological angle? We may do the proposed experimentation in a particular district.
The first conditionality for this new approach will be that there would be no political interference in the working of police. Selecting a committed, upright and hardworking office for this experimental district would be the Inspector General's exclusive choice. The officer's tenure should be three years.
The distinctive features of such experimental district would be the creation of liaison committees in each police station; free and unhindered access to all police stations shall be ensured; police strength would be reassessed and unnecessary duties would be curtailed; communities and social institutions would shoulder responsibilities in consultation with police; arrangements would be made whereby trade bodies and industrialists may be able to contribute financially in exchange of firm assurances of improvement in order and crime situation..
The whole approach is attitudinal and the issue is one of management. The necessity is one of rationalising police manpower and allocating greater resources for training while ensuring better working conditions in the police stations, the primary service delivery point. These are not tall orders and do not require much money.
Let's make a beginning in a district, and if the experiment is successful it can quickly be adopted elsewhere. There is no dearth of men and women of character, honesty and integrity even now. There is a desire amongst young police officers to bring about a change. But they find themselves helpless and soon get frustrated. Let's give them a chance. The basic question is, do we, as a nation, want to make police reform possible? Do we want to abide by the rules?
Muhammad Nurul Huda is a columnist for The Daily Star.