The sorrows of lonely women
Jackie Kabir is touched by some tales of sadness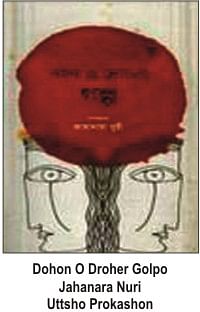 Dohon O Droher Golpo is a collection of thirteen stories about women, all of whom suffer in life and in death. As they suffer they also revolt against the norms of society, a society that is oppressive towards them. It humiliates them, tortures them and then stands up high with pride. As if the whole world is just created for men to rule over their counterparts. In the name of religion they both torture and squash them in their very own home. Society is against women who stand up to protest their malpractices. We all see it around us. It is these writers who paint it on their canvas, make it possible for everyone to understand it better. More than a dozen women are depicted who were really the victims of our modern day society. The male members of their family, even the very near and dear ones, do not spare women when it comes to finding faults with them.
Writers like Anwara Syed Haq, Selina Hossain and Rizia Rahman have portrayed how the female members of the family are always looked upon as a piece of property, a mere utility in the home. Syed Haq's protagonist a young girl, has to abide by her husband and clad herself in a burkha to cover her beautiful countenance and her body. She can wear her favourite sari only once when her husband is asleep in the next room. In Selina Hossain's story an elderly person gets married to a much younger woman, who revolts in ways his first wife couldn't even dream of. Minhazuddin's daughter from the first marriage reminds him how it used to be with her mother. The father then was an autocrat. Rizia Rahman's story Kande Ma Fatema shows how getting independent with the help of the NGOs can become a curse for a poor woman. The powerful men of the village can destroy everything she has built through years of toil in hours, even minutes. Similarly Amiron's life in Jahanara Noori's long short story revolves around getting married. She has to get married a second time when her first husband dies as it is improper for a young woman to stay alone. All her family members decide that for her, without ever asking her what she wants. Undoubtedly that is the case of a lot of women in Bangladesh.
Umme Muslima has demonstrates how the effect of conflict between parents can cripple a child's juvenile mind. Rabea Khatun in Vanga Biyer Kone and Shahin Akhter have written about expatriate marriages which end tragically in most cases, a common enough happening in Bangladeshi society. Parents are overwhelmed with pride and joy when their daughters get suitors who live overseas. Akhter's heroine commits suicide, according to her husband. But that may have been in fact a murder. In Brikkho Puran, Papree Rahman shows how a young girl's aspirations and dreams get crushed under the weight of society. A tree which was planted on Paribanu's birthday is trying to reach the sky. They share the same fate of getting sacrificed for the family's well being. The tree is sold and Paribanu is molested by an influential man's son; and as the matter is exposed. The family is offered thirty thousand taka as compensation. The author aptly shows how Paribanu's sister is happy at her misery. Brikko Puran is also a testimony of women being dishonoured by their own gender.
Five male writers have contributed to Dohon O Droher Golpo with very strong messages. The first story, written by Syed Shamsul Haq, Kothai Ghumabe Karimon Bewa, is about a female corpse which is brought to the village of Jolleshwari. A young boy and an elderly male relative are with the corpse. One of them leaves the scene on the second day. The cadaver remains on the steps of the mazar for three days. No one knows for sure why the body has not been buried in the woman's home village. Upon enquiry it is found that the she worked for a man who was opposed to the ruling party. After her death from natural causes the man being very powerful does not allow her body to be buried in her own village. Hence the journey. Hasan Hafizur Rahman writes about two widows who live in their husbands' home (they are brothers). They once played as young girls and shared everything. They do the same in their old age. Only they have traveled the route of life, life with the deaths of their children, husbands and a war that leaves them scarred for a lifetime. Jojongondha, a flower that does not smell nice but rather irritates the whole locality by its foul smell, is another tale. The smell comes from the poetry notebook of a writer. There is a symbolic (Gashful, Kishori O Janala Oppakhan) story which shows how a village is divided by the idea of whether the houses should have windows or not. The dwellers split regarding the issue of windows to such an extent that it seems a war is imminent. The last story how is about a woman is afflicted by domestic violence. A young boy from the neighborhood helps her to run away from her home. She seems to be in a trance while the bus she is on moves.
All the thirteen stories in Dohon O Droher Golpo seem to deviate from the norms of society as each deals with a certain problem in our society, a problem we are all aware of but seldom do anything about. Maybe writing about issues like child abuse, acid violence and divorce will sensitize people and thus help bring about a change at least in the way of thinking of the people of our country?
Jackie Kabir is a teacher and reviewer.