Cement makers fortify Indian foothold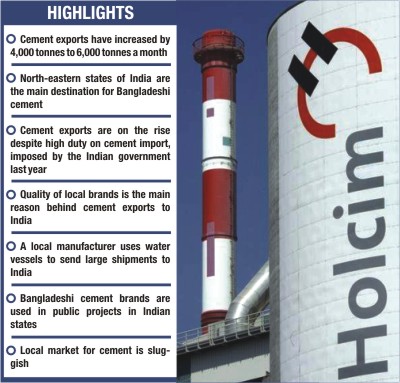 Bangladesh's cement exports to seven north-eastern states of India, also known as 'seven sisters,' have marked a rise in recent months, which is, manufacturers think, because of the reputation the local quality cement brands have earned in the neighbouring country.
Besides quality, competitive price of the construction material has encouraged the Indians to use Bangladesh made cement in public infrastructure development works in the 'seven sister' states, especially Tripura and Assam.
Around 12,000-14,000 tonnes of cement a month are now exported to India, while the item's monthly export figure was 8,000 tonnes a year earlier, Bangladesh Cement Manufacturers Association data show.
"Apart from the reputation of quality, cheaper costs to transport cement from Bangladesh to the Indian states because of much more geographical closeness than the western part of the neighbouring country have also contributed to the high demand for our cement, " said Mostafa Kamal, president of the cement makers' trade body.
Kamal also expressed his pride about Bangladesh made cement's quality and competitive price despite the fact that the country is dependent on the imports of raw materials, mainly clinker, for the item when India by its own produces the necessary raw material.
Bangladesh imports clinker from China, Indonesia and other countries.
Abdul Quayum Mia, executive director of Madina Group, the parent company of MTC Cement Industries Ltd, also pointed to the huge infrastructure development works in 'seven sister,' which helped raise the demand for cement.
An official of MI Cement Factory Ltd, a leading cement exporter that produces Crown Cement, said recently the company has received an export order of 12,000 tonnes of cement from Tripura.
Officials of Holcim (Bangladesh) Ltd said it exported 32,000 tonnes of cement in 2008.
"On an average we can export an amount between 2,500 and 3,000 tonnes a month to India," said Shankar Kumar Roy, general manager (Business Development) of Holcim.
Mujibur Rahman, deputy manager (Export) of Seven Circle (Bangladesh) Ltd, said his company has, for the first time, exported cement to India through water vessels.
"We exported around 8,000 (400 tonnes) bags to West Bengal in early June through waterways, while cement is usually exported by road," said Rahman.
The sector people are upbeat on achieving the feat of increasing exports to India, although the Indian government has, from this year, imposed around 26 percent duty on the imports of cement from Bangladesh.
They expect the exports to rise up to 20,000 tonnes a month in near future if demand continues.
Some 10 local and multinational cement manufacturers out of the 35 cement factories in operation export their products to Indian states.
Shah Cement, Meghna Cement, Aramit and Premium are other brands that are also in the export-basket. Local manufacturers can produce around 20 million tonnes of cement annually against the demand for 8.5 million tonnes.
Meanwhile, the industry insiders have pointed to the other side of the coin. They said they struggle locally because of the low price on the item's falling demand.
"In the last few years prices of all types of construction materials, except cement, have showed an upward trend, though raw material prices went high," said the cement makers' association chief.
He urged the government to intensify public works to create domestic demand for the cement industry.