Hanif Sanket: A vision for progress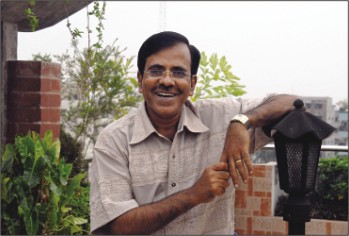 Hanif Sanket, the witty, multi-talented columnist-artiste-actor-TV host is well-known both at home and abroad. His clever satires hit hard social flaws and unfair practices that have often gone unnoticed. The variety show "Ittyadi" hosted by Sanket has been a huge hit with the TV audience for over two decades. Starting from June 5, ATN Bangla has started airing plays by Sanket (as part of a drama festival) every Friday at 8pm. The programme has generated much interest among Sanket's fans. The Daily Star recently caught up with the TV personality:
The Daily Star (TDS): What are the main features and objectives of the drama festival?
Hanif Sanket: These are not new plays. They were aired on BTV on special occasions like Eid (from 1998 onwards). They have not been released in DVD or VCD format yet. Upon frequent requests from the audiences, especially expatriate viewers of ATN Bangla, I gave my consent to this arrangement. The festival is expected to continue for three months.
TDS: How many plays have been aired so far?
Sanket: Three plays -- "Putrodaay" on June 5, "Shodhbodh" on June 12 and "Gharer Khabor Porer Khabor" on June 19.
TDS: Tell us about the upcoming plays...
Sanket: The next play to be aired is "Kingkartabyo" (What should be done) on June 26. The story follows interaction between two families. Mobarak and Rahman have been neighbours for years, but are always in conflict over trifling matters, though in general the respective families are in good terms. As in my other plays, there is a strong social message in this one.
Others plays to be aired are "Biporeete Hith," "Onte Bashanto," "Tathabrito Jathakar," "Bhut-Odbhut," "Shunyosthan Purna," "Sheshey Eshey Abosheshey," "Phirey Ashey Phirey Asha," "Durghot" and "Kusum Kusum Bhalobasha."
TDS: The titles of your plays are rather uncanny. Can the same be said about the stories?
Sanket: I suppose so. When I come up with a story, I also incorporate a message in it that I want to convey to the viewers. For example, "Durghot" reflects on the bizarre trends related to the fashion shows that have now become so popular in our urban areas. At the end of the play, the characters are convinced that we should take pride in our own traditions and not borrowed ones. "Gharer Khabor Porer Khabor" features a young expatriate Bangladeshi returning home with all intentions of going back. But through a turn of events, he goes to a village and starts farming, and motivates the people of the village.
TDS: What is the USP of your plays?
Sanket: My plays are basically everyday stories. I try to portray the subtle psychological aspects of the characters centring on a problem in a higher, middle or lower-middle class setting. I always try to uphold our own culture and the serenity of village life through my plays. Commitment to the society is the focal point and I make plays from that context.
TDS: Why are your plays and other shows aired predominantly on BTV?
Sanket: BTV is a terrestrial channel that covers the whole Bangladesh. I don't make a lot of plays, and I want to draw the most number of viewers. I did make an Eid-special play for ATN Bangla last year.
TDS: You had also done some acting years ago...
Sanket: In 1981 I acted in a play called "Nongor." My character's name was Amin.
TDS: Future plans?
Sanket: I don't really spend a lot of time planning for the future. Future is uncertain, my concern is the present. I'll continue working on "Ittyadi" and documentaries. If I get time and opportunities, I'll make more plays.
TDS: Any message for your fans?
Sanket: The warmth and love I've received are overwhelming. I've been actively involved in making TV shows for the last 23 years. I'll quit when my viewers stop accepting my work. Their well wishes keep me going and I want to contribute more to the country.
At present, the plays aired on different channels are mostly serials that basically run for 15 to 20 minutes (each episode). Due to encroachment by ads, predictable stories, annoyance of mobile phones etc. viewers lose concentration and interest. I believe this festival will, to some extent, satisfy the TV play enthusiasts. ATN Bangla deserves credits in this regard.