JMB IT 'chief' captured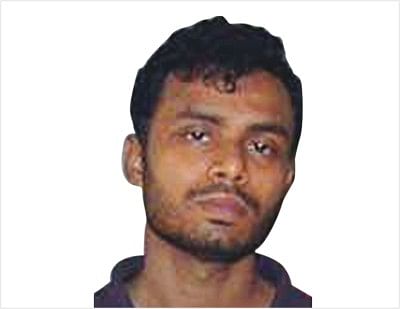 Rab arrested the chief of information technology (IT) wing of banned Jama'atul Mujahideen Bangladesh (JMB) from his residence in the city's Pallabi area on Sunday.
Rab men raided the house of Emranul Haque alias Rajib at around 9:00 pm and arrested him along with JMB 'Ehsar' (full-time) member Abu Bakar Siddiqui alias Abu Hanif, 20. Hanif is on charge of Pabna district of JMB.
Five detonators, two casings of grenade, one high resolution binocular, one laptop, a number of jihadi books and some bomb-making materials were also seized during the raid.
"Rajib's arrest help us to understand that many highly educated people and brilliant students are involved with the banned outfit," said Director (operations) of Rab Lt Col Mizan at a press briefing at Rab headquarters in Uttara yesterday.
In a separate raid at Muktagaccha of Mymensingh district on the day, the crime busting force arrested JMB's 'Gayre Ehsar' (part-time) members Mohammad Saiful Islam, 28, and Shirin Shapla, 18, wife of another detained JMB 'Ehsar' member David. Following confessional statement by her husband, Rab men arrested Shapla.
The JMB IT chief was given task to download information about explosives from internet for providing those to detained JMB explosives expert 'Boma Mizan' after translating those into Bengali. Rab sources said JMB has also its website.
Rajib, also known as Mainul, Abu Toba and Iqbal, had also worked as research associates at Water Resource Engineering Department of Buet for a few years.
Lt Col Mizan said on information they raided Rajib's residence. Sensing presence of the elite force, he tried to flee from his rented house but was caught finally, he added.
Though the four JMB men were kept at the briefing, journalists were not allowed to ask them any query on plea of fair investigation. At one stage, Rajib was allowed to brief the newsmen.
Rajib started his briefing with the name of Allah and said about his student life and his duty as the IT chief.
He said he got involved in JMB through Mostafiz, a former Dhaka University student. He had visited India twice--once for a training as an engineer and another for personal matter.
Rab sources said Mostafiz is a teacher of a school in Gazipur and a hunt is going on to arrest him.
"I download information on explosives from internet, translate those in Bengali and send those to Mizan through Bashar," Rajib said. Bashar, now a key-figure in JMB, is the son of incumbent JMB Ameer Saidur Rahman.
Son of a retired railway official, Rajib hails from Chuadanga district. He passed SSC in 1994 and HSC in 1996 from two institutions in Darshana and secured first division both in the examinations. Later, he got admitted in Buet and passed BSc engineering from Civil Engineering department.