Recalling the spirit of Sufia Kamal
Chhayanaut's Nazrul Festival ends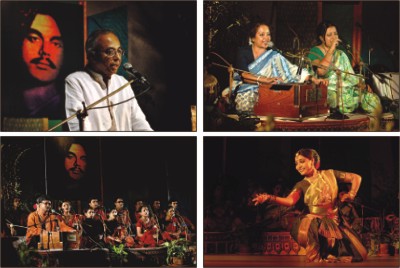 "It was February 21, 1953. We attended programmes all day, observing the first Language Martyrs' Day. Barefoot, we went to the Shaheed Minar, which was just a bare brick structure covered by black cloth then. We were at memorial meetings and rallies, mourning those who had embraced martyrdom to secure our right to speak Bangla. In the evening, Sufia Kamal asked me what my plans are, and my tired answer was that I wanted to go back to my hall (at Dhaka University). She asked me, 'aren't you invited to the dinner celebrating International Poetry Festival?' I told her as they are celebrating the occasion on a national mourning day, I don't intend to go.
"To my surprise, she told me that we should protest this by going there, in front of all. I could not but agree with this brave woman and went to the dinner. Our presence itself was a protest, as we were in a total contrast with the jovial atmosphere. Sufia Kamal wearing a white cotton saree and me in a cotton shirt -- both of us wearing a mourning badge. We were barefoot. Responding to the host's reluctant query, Sufia Kamal said that we were there to protest the event as it dishonoured the Language Movement, and that we wanted the guests to pay homage to the martyrs. I translated her words into English, as there were many non-Bengali guests. We left the dinner after the guests acknowledged the Language Martyrs' Day. That's how bold and determined Sufia Kamal was," noted Nazrul researcher Dr. Rafiqul Islam reminisced in his memorial speech on the concluding day of the Nazrul Festival at Chhayanaut. The festival marked the 98th birth anniversary of poet Sufia Kamal.
Dr. Islam spoke on the life and philosophy of Sufia Kamal, who was inspired by the progressive and secular thoughts and views of Kazi Nazrul Islam and Begum Rokeya Sakhawat Hossain.
The concluding day's programme was inaugurated by veteran Nazrul exponent Sudhin Das at the Chhayanaut Sangskriti Bhaban. Together with his wife, Neelima Das, the seasoned artiste also rendered a song at the event. Chhayanaut general secretary Khairul Anam Shakil delivered the welcome speech at the event presided over by Chhayanaut president Dr. Sanjida Khatun. Artistes of Nazrul Academy and music school Hindol presented group performances at the programme. The last day's evening session featured performance by artistes of Chhayanaut along with guest artistes. Yasmin Mushtari, Rawshan Ara Mustafiz, Ferdousi Rahman, Muntarin Mahal, Dr. Nashid Kamal and Fatema Tuz Zohra were among the guest performers.
A dance-drama, titled "Shajol Shyam Gahano Deya" was a major attraction on the closing day. Based on the theme of monsoon, the dance-drama staged by Chhayanaut artistes featured Nazrul's songs and poetry on rain. The performance was directed by Sharmila Bandopadhyay. The dance-drama began with the song "Megher-o hindola." The repertoire included several songs portraying different aspects of nature and life in monsoon. Featured songs were: "Megh-medur baroshay kotha tumi," "Rimi rimjhim rimjhim namilo deya," "Chanchalo shyamolo elo gaganey" and the composition which inspired the title of the dance-drama, "Esho hey shajolo shyamo ghano deya."
Students and teachers of Chhayanaut, including Khairul Anam Shakil, Nasima Shaheen, Shahin Samad, Sharmin Shathi Islam, Sumon Majumdar, Nandita Dutt, Bijon Chandra Mistri and others performed songs. Bhaswar Bandopadhay and Mahmuda Akther's recitation was also a part of the production. Sharmila Bandopadhyay herself performed in the dance sequences along with Arno Komolika, Sonia Rashid and other dancers.