Gaziul Huq: A personal recollection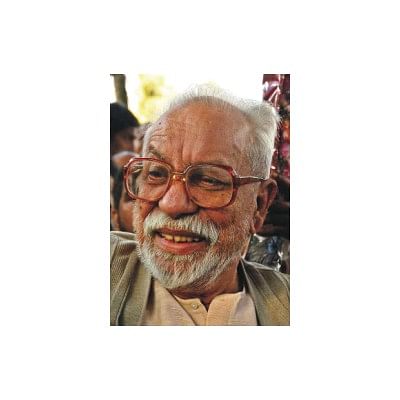 It is the arts faculty building of Dacca University sometime in the early nineteen fifties. The lawn of the faculty is green. There is the mango tree. At the north-west corner of the lawn stands a low tin-shed called Modhur Restaurant, where one could spend hours over cups of tea and raise storms in them. The place is always crowded. And from that crowd one could hear a roar of laughter that would burst out of that tin-shed, and then roll on to the lawn, spread past the mango tree and way beyond. That laughter could only be Gaziul Huq's .
Gaziul Huq: Medium built. Fair complexioned. With his head of dense, curly hair, a formidable moustache under the nose, in his light-brown home-spun pajama and punjabi and a pair of Bata slippers, he would stand out in any crowd. There would often be a lighted cigarette between his fingers. He would hold the cigarette between his index and middle fingers, make a fist, put his lips to the cavity just created and take a mighty pull. A cloud of smoke would next billow out of his parted lips.
In the student community of the nineteen fifties Gaziul Huq was more commonly the endearing Gazi Bhai. He attracted those around him like a magnet. A freshman in nineteen fifty one, I too got drawn towards him. He had two attractions for me. He was a communist and I in my late teens was beginning to draw inspiration from that ideology. The second attraction was his infectious laughter. A man who could laugh like that could only be unpretentious, capable of loving any fellow human being, totally averse to spiting any. He proved this with his life.
I came to know Gazi Bhai entirely through the language movement. And soon came the twenty-first of February, 1952. Gazi Bhai will forever remain etched in the giant mural of the language movement of the Bengali people. With other stalwarts, he led and inspired the movement. On that unforgettable day in February, under the mango tree, he chaired the student meeting that decided to defy an unjustifiable police ban on demonstrations. To scatter the students, the police charged into the faculty premises, firing rounds of teargas shells and beating whoever came their way. The air was thick with eye- stinging teargas. One of the shells hit Gazi Bhai. He lost consciousness. The intensity of the gas must have contributed to this. A group of students carried him to the second floor of the faculty building. There he was doused with water. Soon he came round. I am witness to all this. It has sometimes been said that his losing of consciousness was a sham or, at best an exaggeration. To those of us who were very near him at the moment, neither was true.
Twenty-first February, nineteen fifty three. It was very early in the morning. I was hurrying to Fazlul Huq Hall. From within was coming the sound of Prabhat Feri song: "Bhulobona, Ekushey February, Bhulbona… " The author of the song was Gaziul Huq. And he was singing it. That was before Abdul Gaffar Chowdhury's " Amar Bhaiyer Rakte Rangano Ekushey February " became famous, and rightly so. That morning, the song was on the lips of hundreds of students. We sang as we proceeded to Azimpur graveyard in a huge procession. Gazi Bhai had a leading role in organizing Ekushey anniversary. Later that day, one of the largest processions in the history of Dhaka started from the arts faculty, this time unhindered, with Gazi Bhai among the leaders.
During the 1954 anniversary he was in jail in Bogra. In the February of 1955 too he was behind bars, this time in Dacca Central Jail. In my extremely limited way I continued to take part in the movement. But I lost touch with Gazi Bhai soon.
We met years later, in New York. A common friend, Dr. Khondkar Alamgir, fetched him to my apartment in Manhattan. He had told Gazi Bhai my name. He could not recollect it. I opened the door of the apartment to him. He did not recognize me. In desperation I burst out singing the first lines a favourite song of his:" Naojoan, Naojoan, Bishwe Jegechhe Naojoan….". Recognition flashed across his face: "I know you, I know you!" he exclaimed. He embraced me. There was again that infectious laughter.
He was in New York for an Ekushe February celebration. He spoke at a large gathering. I have heard him speak on many occasions. I have rarely heard anyone speak about the language movement so lucidly, without notes.
Over the last one and a half decades during my annual trip to Bangladesh I have met him once a year. Every time he was mighty pleased to see me. We talked endlessly. Then suddenly he fell silent. I still visited him annually like a pilgrimage at his Rampura house in his sunset days. He would stare at me. Was he still trying to recognize me?
I knew Ghaziul Huq primarily as a quintessential fighter for the Bangla language, a true Bhasa Sainik. But I also came to know him as a decent man. I shall always remember him as both.
Bidaay, Ghazi Bhai!
Mahfuzur Rahman is a former United Nations economist, and occasional contributor to The Daily Star.