Clock goes 1-hr ahead tonight
Daylight saving time kicks off to save electricity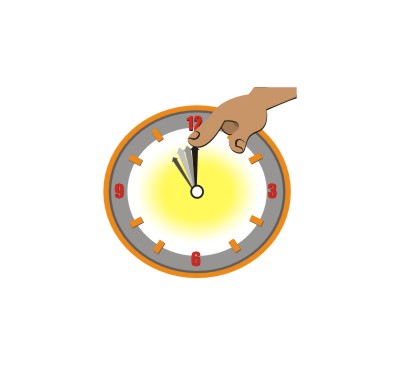 Bangladesh pushes forward the clock an hour at 11:00pm today (Friday night) to better utilise daylight and save electricity.
This means Bangladeshis would practically begin their work an hour earlier than usual. Consequently, many establishments that run till sundown would actually close before sundown and thus reduce pressure on power demands.
With the clock running an hour ahead, Bangladesh tonight becomes GMT+7 from GMT+6. Prayer times for Muslims would move forward by an hour while timing of different offices, schools and other institutions would remain unchanged.
Shops and malls that traditionally remain open till 8:00pm would now use one extra hour of daylight. These would now use less electricity.
It cannot be precisely forecasted how much energy can be saved by this measure but the energy ministry expects a five-percent reduction in the national power demand, which would be equivalent to 200 megawatt (MW) of power during the evening peak hour--7:00pm to 8:00pm.
The country experiences between 1,000MW and 2,000MW of load shedding during the peak hours daily as power demands swing from 4,800MW to 5,800MW against a supply of around 3,800MW.
While building new power plants to minimise the power crisis is a time-consuming affair, implementing austerity measures like replacing traditional light bulbs with power-saver lights can reduce the national power demand by 20 percent and daylight saving can lower demand for another few hundred megawatts.
Late last month the cabinet approved the energy ministry's recommendation to use daylight saving time (DST) as a measure to minimise the impact of the perennial power crisis. Earlier, the energy ministry bounced the idea off other ministries and informed them of the benefits of DST.
As per the government decision, the daylight saving measure begins this year from June 19 and ends on October 1, when the clock is to be set an hour back. From next year on, the clock would be set an hour forward on April 1 and set an hour beck on October 1.
Even though the government had little time to launch awareness campaigns, it held meetings with chambers of commerce leaders, banks, schools, and other institutions, including the media, seeking their cooperation in this regard. Some campaigns and publicity programmes have been run through media.
"The success of daylight savings measures depends on how people adjust to new routines and get rid of habits. Initially some might feel uncomfortable. But if other nations can implement such measures, so can we," said a PDB official.
Bangladesh Bank (BB) in a circular announced that the bank's half-an-hour lunch and prayer break would be moved to 2:00pm from the present 1:00pm.
The court and office timings of the Supreme Court and its subordinate courts have been rescheduled for implementing the government decision to advance the clock.
According to a release, the High Court hours effective from June 21 will be from 10:30am to 4:15pm with a 45-minute break from 2:15pm while its office hours will be 9:45am to 5:00pm with a half-an-hour break at 2:30pm.
Timings of subordinate courts will be 9:30am to 4:30pm while their office hours will be 9:00am to 5:00pm with a half-an-hour break from 2:30pm.
As most of the schools are closed due to summer vacation, children would have some time to adjust to the new times for waking up and going to sleep.