Shah Cement Nirman-er Taroka: Auditions held at Bogra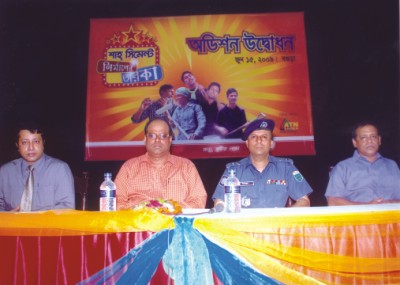 The Bogra auditions for "Shah Cement Nirman-er Taroka," a talent hunt for construction workers, started on June 15, says a press release. The programme aims at promoting talented construction workers, providing them with an opportunity to make a name for themselves. Primary selection round has started at the district level. Winners from the district level will compete at divisional round and then proceed to the national round. ATN Bangla is the media partner of the event.
The Bogra audition was held at Titu Auditorium in the city. Humayun Kabir, Poilce superintendent of Bogra district, was the chief guest, while Mohammed Ayub Hossain, additional Deputy Commissioner of Bogra, was present as special guest. ATN Bangla local representative Iqbal Morshed Ripon and marketing manager of Shah Cement Industries Ltd., Dipan Kankan Chakrobarty were also present at the event. Artiste Fakir Alamgir, Fakir Shahabuddin, Piaru Khan and Shyamol Biswas were the panel judges of the audition.
Earlier, on June 9, an audition was held in Habiganj.