Essay
In Defense of V.S. Naipaul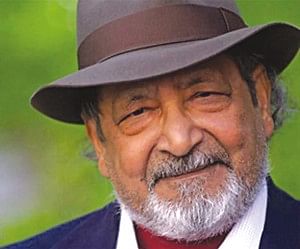 Few literary figures in recent memory excite such passionate invective as novelist Sir V.S. Naipaul. His public figure, his work, his personal life, all examined in tandem, tend to inspire a uniquely tortured rhetoric. He has been caricatured as a monster, and will never be a darling of the politically correct. Few other writers are judged as completely as a moral failure in the way Naipaul is, and this tendency is baffling. The insistence in popular imagination on Naipaul's "life choices" reveals a prurient, amateurish fascination with him as a celebrity. Joan Didion summed up this attitude: "It is hard not to note a certain turning in the air when V.S. Naipaul is mentioned, a hint of taint...One catches the construction 'brilliant but': brilliant but obsessive, brilliant but reductive..." Out of the murk of commentary that threatens to drown the author's fictional voices, one grudging admission rises without fail: Naipaul is a hugely talented writer. I'd suggest that last phrase be said simply, without a 'but' or an 'although' appended.
To wit, I've spoken with students who have never read Naipaul, but have heard of his reputation - as a philanderer, as close-minded, as racist - and have committed to never read his work. In Patrick French's recent authorized biography of Naipaul, The World is What it Is, we find that Naipaul is only ever forthright about his life. His frankness, his perceived lack of remorse, cause discomfort. Regardless, why anthologize Naipaul's perceived failings? What is the need to examine the writer before his work? I imagine these impulses are rooted in more than a (disingenuous) desire to admonish him for his infidelities.
Naipaul is, foremost, an ascetic writer, dedicated to seeing the world clearly and without sentimentality. He has often said, "good writers have always looked for truth," and beginning with The Mystic Masseur in 1957, he has insisted that he, as a writer, be held to and judged by his word. (It may be just this desire that laid him, eventually, open to attack.) In a decade where violence exists at a remove, Naipaul's constant dedication to "looking directly" is especially important. I approach his work as a literature student, as one looking to his craft for guidance. The poet and critic Robert Hass has noted that Naipaul "is the supreme writer of disenchantment". Indeed, his work rarely provides us with escape. Self-ideation is essential to Naipaul's thinking. The novel, he wrote, is what gives modern society the best sense of itself, its mission; when he encountered Argentina, he wrote the country hadn't yet a "sense of itself." Naipaul had a clear conception of himself, according to French: "He depended on the idea of his own singularity." He carved out his own philosophy; he wanted to experience everything: the bad and the good.
I've often turned to his 1979 work, A Bend in the River, for intellectual succor. Salim comes as an Indian to a nameless town on a river in Africa; he remains anonymous as ideologies, regimes, pass through. The African students reach for an urbanity that their former colonial village life has not equipped them to understand. Naipaul has knowledge of this reality. Anyone familiar with African history can attest to the dictators, regimes, and countries depicted, trying to construct an exalted past. The panoply of injustice and suffering in the town are demonstrated in bare terms, without the comfort of anesthetics. This is pure writing, and true. When Indar says, in his great monologue, that he doesn't want to be on the "wrong side," he is not expressing a desire to disavow his skin color but to confound the expectations that he serve his "origins," that he exalts what he does not feel can be exalted, that he be a Third World triumphalist. A famous Caribbean writer ventured that the only people who support Naipaul are "Western people, right-wing people," that Naipaul supports the West's "idea" of itself as superior. I must respectfully disagree. Such statements about "Western people" are hopelessly un-nuanced. Naipaul's scorn is for all who maintain destructive systems of delusion. One only needs to think of his caricature of the Afrophile in Bend, who flees to the U.S. laden with crates of African artifacts to form "the nucleus of a gallery of primitive art." Elsewhere he scorns the "revolutionaries who visit centres of revolution with return air tickets," who only "celebrate their own security." Naipaul is passionate to denounce hypocrisy - a serious moral project. In light of his work, the fact that his relationships with women invite the scrutiny reserved for, say, the Pope, seems absurd. He was married to Patricia Hale and kept a lover, Margaret; French describes how Hale never got a wedding ring, how Margaret was worn down by Naipaul's extended periods of inattention. These are complex women: hurt, intelligent, emotive. Anyone with a pulse is sympathetic to them. Yet Tolstoy, Melville, Dickens: all these novelists were enmeshed with long-suffering women who unfortunately endured unspeakable self-sacrifice in support of their husbands. This is not to say this type of sacrifice is acceptable or desirable. Sickness, perversion, marriage troubles, unhappiness: these are cornerstones of many an artist's personal life. Do we excuse Naipaul's cruelties because of his genius? Of course not: but only because we must recognize we are not in a position, or do not have the power, to excuse or to judge.
Naipaul's belief in a new form of autonomy for the human is liberating. He is a writer who encourages us continually to question, to write about the world with the freedom of a person with no home, no country, no affiliations. His testimony, his witness, set the bar high for writers. V.S. Naipaul changed the way fiction is understood and written, without qualification. As he said so well, "the books have to look after themselves, and they will be around as long as people find that they are illuminating". His books will certainly look after themselves, taking on the personified life of text living on outside and apart from their author.
Nora Khan is a Bangladeshi-American writer who lives in New Haven, Connecticut.