Infrastructure gets more focus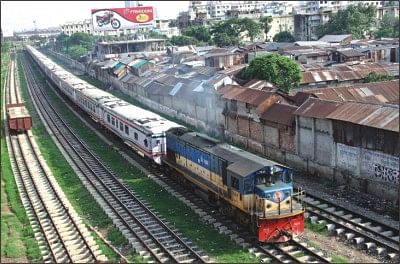 Since physical infrastructure and communication sectors are still far from meeting needs, Finance Minister AMA Muhith proposed an increased allocation in the budget for the fiscal year 2009-10, attaching equal importance to roads, railways and waterways.
He proposed Tk 6,100 crore for Roads and Railways Division and Bridge Divisions, a 34 percent higher than the amount allocated last year.
"The communication network is neither integrated nor consistent with the socio-economic realities of the country. The government has worked out an integrated multi-model transport policy. Once finalised and implemented, this policy will help integrate the communication network," the minister said in his budget speech.
He emphasised a public-private partnership (PPP), prioritising construction of Padma Bridge, Karnaphuli Hanging Bridge and an environment-friendly transport system in the capital city. He said initiatives will be taken to solve traffic congestions in major cities.
He said the railway sector has gradually become weak and risky because of the persistent negligence. "Problems in this sector have been identified and are being addressed through a 20-year Railway Master Plan," Muhith said, promising restructuring of the railway network.
He also laid bare a plan to commission an electricity-powered railway transport system, construct a double-track railway line between Dhaka and Chittagong and circular railway around Dhaka to ease pressure from increasing population.
"We would take an integrated approach to tackle the problems arising from increasing traffic jam, deteriorating water supply and drainage system and environmental pollution," the minister added.
He said the Bangladesh Railway will be linked to Trans-Asian railways, while both metre-guage and broad-guage in the same track will be developed.
Emphasising dredging, the finance minister said, "We are taking up an integrated dredging programme to increase the navigability of waterways, develop river ports and to make the river ways safer."
To solve the problems of public transportation system in Dhaka city and traffic jam, he said the existing project for circular river ways around the city will be made effective.
"We are strengthening security system in inland waterways to reduce accidents," the minister said.
He said the construction of New Mooring Container Terminal is underway to enhance the capacity of Chittagong Port, while the plan for setting up a deep seaport at Sonadia is in progress.