There was no genocide; it was a 'civil war'
Claims Shah A Hannan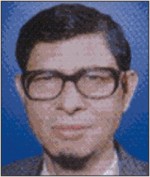 Known Jamaat-sympathiser and former Islami Bank chairman Shah Abdul Hannan has described the Liberation War of 1971 as a "civil war". He denied that genocide took place in the country at that time and that war criminals exist here.
Speaking on a talk show, Ekushey Shomoy, on private satellite television channel Ekushey Television on Friday, Hannan also expressed doubts that three million people died in the war and supported a Pakistani report according to which only 26,000 people or less died during the Liberation War.
The following is a transcript of his comments made on the talk show:
DENIAL OF WAR CRIMES
At the Simla Conference between India and Pakistan, Pakistani soldiers were released as war prisoners, not war criminals. So, I am in agreement with [Jamaat-e-Islami secretary general Ali Ahsan Mohammad] Mojaheed that there are no war criminals in the country.
There was an Awami League government until 1975 and there was another Awami League government in 1996, under which I worked as a secretary and I was even close to the administration. But they never thought of trying war criminals. Another major party BNP was in power during the rule of Ziaur Rahman and later came to power thrice, and at no point did they try to hold trials of the war criminals.
Since no one is making any claim and there are no cases filed with the court--Bangladesh government is the entity that can file a case and has never filed a case against anyone--I will continue to say there are no war criminals in this country until the government files a case against anyone.
CIVIL WAR, NOT LIBERATION WAR
I frankly think it was a liberation war but it was also a civil war not only in the sense that it was between West and East Pakistan but also because it was a fight between political forces supporting a untied Pakistan and an independent Bangladesh.
If they can prove that these things [war crimes] were done in 1971, let them take it to court. The constitution mentions that Bangladesh was created through a liberation war--yes, it is true. But plenty of people say it was a civil war.
I know this much that in 1971 there was a civil war...Fine, it was also a Muktijuddha...From what I have read in foreign newspapers and encyclopaedia, it was a civil war and most people did not call it a "struggle for freedom". But there is no doubt that it was a genuine freedom fight by the people of Bangladesh. It was an excitable time and the population was also more or less divided. So, those who thought at that time that it was not right to break up Pakistan with the help of India held the view that they should stay on the side of the then Pakistan administration politically, not for violence. The other side thought they should unite with India to gain independence. There were a lot of excesses back then--not only members of one community died--Hindus died, Muslims died, Biharies died, Bangalees died, wives died, children died, women died, men died...And the number, I do not know anything about three million deaths. There was no survey in 1972, not in 1974, and never. That is why these numbers are allowed to be mentioned. I urge the current government to conduct a survey so this problem is solved. It is not right to ask this to the caretaker government, ask this to the next elected government.
Bangalees were on both the sides, involved in the events before December 16, 1971. You have to judge in that political context. I think those who were against the idea of Bangladesh have shifted from that position. A lot of them are my good friends--they are patriotic, they defend Bangladesh, they are in a struggle to build Bangladesh and protect it from the attacks of other countries.
REACTION TO NIZAMI'S 1971 REMARKS
Genocide is a matter of definition. Not everything is genocide. The United Nations has not called this genocide. We can call this genocide or whatever. Nizami could clarify his own quotes. But I know in the context of 1971, there was a civil war...and another war between India and Pakistan. Both Razakars and collaborators were killed as well as freedom fighters. It was a struggle between ethnic and political forces...Bangalees and Biharis were also fighting each other. So, it was not genocide. This is my personal opinion.
HAMOOD-UR-RAHMAN COMMISSION REPORT
[The commission was formed with the then Pakistan Supreme Court Chief Justice Hamood-ur-Rahman as the head to ascertain the facts of the 1971 debacle. It reported that 26,000 people or less died in the war.]
I cannot ignore the findings because he was a Bangalee, a judge of the High Court and the chief justice of the Supreme Court. But, it is our fault that the governments during the rule of Sheikh Mujibur Rahman, Sheikh Hasina and Khaleda Zia did not conduct a survey. Wise men are still here who can still say how many people died in which village. Sheikh Mujib first said one million and then said 30 million and he is quoted in encyclopaedias. But they also did not conduct surveys. The truth needs to come out and the government needs to conduct a survey.
The matter of war criminals' right to participate in politics...Well, if they are found guilty, then they have no right to form a party, fine. But, until they are not proven guilty of war crimes they can...But, if they are proven guilty, do not let them form parties, imprison them, hang them, if you need to.
RELIGION-BASED POLITICS
Islam is not simply a religion, it is a life system. You can say about secularism...Sheikh Mujib himself established the Islamic Foundation and the Quran was also recited on the radio during the Liberation War, Allahu Akbar was mentioned several times during airing.
Denying a religion-based political party will be denying the democratic process and the constitution. No democracy can ban a religion-based party.
Religion-based politics...has never been banned in the sub-continent. The Muslim League and the Jamaat-e-Islami India were banned in India but they were cleared by the court.
Bangladeshi Islamic parties have been in existence since 1975. According to the constitution, if any party has any right to be formed, it is the Islamic parties. It is a democratic constitution, not just a large Islamic constitution, and no party can be banned under a democratic constitution, not in England, not anywhere else.