Tête-à-tête
"I am a workaholic" -- Sara Zaker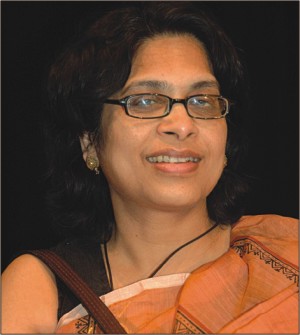 "My daughter Sriya says that I always have an agenda," says a laughing Sara Zaker on a relatively relaxed day. The grouse of her family is that the media personality never takes a break.
In a freewheeling interview with The Daily Star, she took time off to talk about her professional and personal life. Excerpts from the interview:
The Daily Star (TDS): Any humorous experience you want to share?
Sara: This happened in Phuket few years ago. I went smack into a swimming pool at a hotel. Was I embarrassed! Fortunately the hotel staff was very courteous and saw me out of the water.
When my son Iresh was living abroad, he'd call me often and talk to me in a fake voice. It was a game we both enjoyed. Once, I had a call, which I thought was from him and told him to quit joking. Much to my discomfiture, he turned out to be someone else.
TDS: What memories regarding your profession remain etched in your mind?
Sara: While shooting for the film "Antarjatra," the filmmaker duo Tareq and Catherine Masud gave me a makeover. They gave me brown contact lenses (I have green eyes) and a new haircut. I resembled my sister Sajeda. Even Catherine was surprised when she saw Sajeda in New York.
TDS: What makes you tick?
Sara: I am a workaholic. My work keeps me going. I enjoy working for causes such as education, public health and child rights, among others. In theatre I combine the roles of actor and director.
TDS: Have you slowed down?
Sara: Well people think that I have opted out of theatre.
TDS: What are your favourite colours?
Sara: I usually go for black and red. In addition, I opt for khaki and beige. I feel comfortable in these colours; I cannot carry off pastel colours. I also like earth colours.
TDS: Who are your role models?
Sara: I am a great admirer of social activists such as Hamida Hussain, Shireen Haque, Ayesha Khanam and the late Salma Sobhan. The social aspect of my work dates back to 1973.
TDS: What/who inspires you?
Sara: My husband Aly Zaker and I complement each other. We have common interests in advertising, theatre and social causes. The inspiration comes largely from our social venture.
TDS: What do you do in your free time?
Sara: After a day's work, I like to watch movies, eat out and enjoy 'adda.'
TDS: Do you believe in the zodiac signs and palm-readings?
Sara: I am gullible but I don't go to fortune-tellers because I feel I might fall into a trap.
TDS: Future plans?
Sara: My dream is to be No 1 in the social communications arena. I would like to remain in theatre. This medium has become a part of me and I see my future in theatre.