Touhid hid killings in talks with PM
Confesses to have led BDR carnage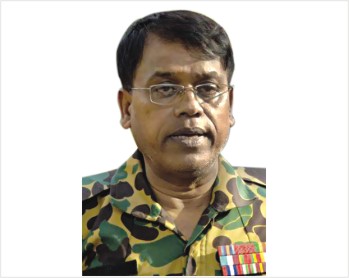 Deputy Assistant Director (DAD) Touhidul Alam yesterday confessed before magistrate of a Dhaka court to have led the planning of the BDR mutiny and all operations during the carnage.
Terming the confession a big step forward, sources in the CID said Touhid, prime accused in the BDR carnage case, admitted that he had taken the leadership as rebel Bangladesh Rifles (BDR) jawans gave him the responsibility.
Sources in the CID, which is investigating the case, said in the three-hour-long confession Touhid said he had led a team of 14 BDR mutineers to the talks with the prime minister at her residence Jamuna on February 25 to get general amnesty. He said he knew that the army officers were already killed but he did not reveal the information during the talks with prime minister and other government representatives.
Detained Sepoy Habib also made a statement yesterday admitting that he and Sepoy Muhit shot and killed director general of BDR Maj Gen Shakil Ahmed and other senior officers at Darbar Hall in Pilkhana soon after the revolt sparked.
Metropolitan Magistrate AKM Emdadul Haque recorded the statements of Touhid and Habib. Arrested on March 3, Touhid was placed on remand four times.
Touhid also mentioned names of several BDR men who abetted him in the February 25-26 carnage that left 74 people including 57 army officers dead.
DAD Touhid tops the list of 24 people named as planners and implementers of the carnage in the summary of the probe report of the national committee, formed to investigate the bloodbath at the Pilkhana BDR headquarters.
CID sources said Touhid's confession is regarded as a big step forward in the investigation and trial process of the BDR carnage case.
Lalbagh police filed the case on March 1 against over 1,000 BDR men.