Pak Taliban leaders waiting for a suitable time to strike
Pakistan needs Swat clean up to win war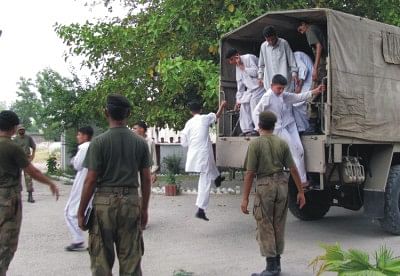 The Taliban leadership has shifted to mountains to regroup and strike back at a suitable time, The Nation reports.
After losing hundreds of their low cadre militants in fierce clashes with the Pakistani Army, the central leadership of Swat-Taliban has simply left the valley and hopes to emerge stronger at the right time.
"The Taliban have received heavy casualties and hundreds of their low cadre militants have been killed in the clashes with the Army in the Swat valley," a Pakistani Army official said.
He added that the Taliban in Buner and Dir have also employed a similar strategy. They have decided to retreat and wait for a suitable time to remerge and challenge the writ of the government.
According to the official, the Taliban would either opt for hit and run policy or wait to engage in wide battle once again with the Army.
The most likely strategy for the Taliban would be to carry out small assaults here and there, as they have just suffered a huge loss, he said.
Meanwhile, after days of intense fighting, the Pakistan security forces are now searching the Taliban leadership in the nearby mountains.
An army source said the security forces were trying their best to take out the Taliban leaders, as they don't want to give them an opportunity to regroup and regain their lost strength.
The official added that the security forces had besieged Charbagh in Swat where some senior militant commanders were believed to be holed up.
Meanwhile, bereft of services and struggling without proper food, frightened civilians stumble past damage from Pakistan's offensive in Swat, wondering whether the government can win the war.
"They (militants) devastated my beautiful home town. They ruined the future of my children," travel agent Rehman Ullah told AFP after emerging from his house during a recent break in the curfew in the valley's main town of Mingora.
He closed his office, took his wife and children south to safety, but returned to protect his property during the fighting, which has gone into a lull since Pakistan declared the town back under government control.