Figo set for farewell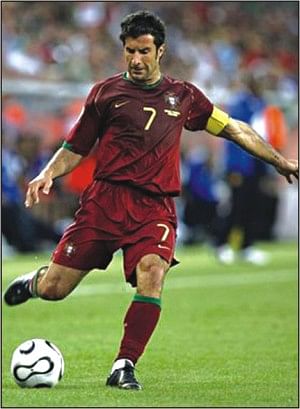 Portugal legend Luis Figo on Saturday announced his definitive retirement from the game.
His final match will be on Sunday when the Italian champions entertain Atalanta at the San Siro.
It will bring down the curtain on a glorious career that saw the 36-year-old win eight league titles, four national cup competitions, the Champions League and the now defunct European Cup Winners' Cup.
"Tomorrow, May 31 2009, will be my last Sunday as a footballer. I'm happy that my last Sunday as a footballer will be a party for me and for everyone at Inter after our fourth successive scudetto," he said on the Inter website.
"Winning was always the only real objective of my career. Winning everything that I could win, from practice matches in training to championships, cups and personal trophies.
"And I have known only one road on the path to victory, that of sacrifice and hard work.
"They taught me that as a young lad at Sporting (Lisbon) and everything I've achieved didn't happen out of chance but due to many sacrifices."
Figo certainly has won a lot, starting with a Portuguese Cup with Sporting in 1995, the same year he moved on to Barcelona.
There he won two La Liga titles, two Spanish King's Cups and the European Cup Winners' Cup.
However, he then committed the most heinous of crimes in the eyes of the Barca faithful by quitting the club for their hated rivals Real Madrid in 2000 for a then world record transfer fee.
Such was the chagrin of the Barca fans that two years later when the winger returned to the Nou Camp with Real, he had a pig's head thrown at him.
However, he achieved even more success at Real, winning two more titles and the Champions League.
Five years after that move he came to Italy to join Inter and his four seasons with the club have seen them land the title in every one -- although initially through default when in 2006 Juventus and AC Milan were penalised for match-fixing and the scudetto was awarded to Inter, who had finished third.
He also achieved great personal success, winning the world player of the year title in 2001, a year after he was given the Ballon d'Or.
He was named Portuguese player of the year six times but success escaped his country despite reaching the European Championship final on home soil in 2004, where they lost to Greece.
A member of Portugal's golden generation alongside Rui Costa and Joao Pinto, Figo won the European under-16 Championships and World under-20 Championships and made his debut for Sporting in the 1989-90 season.
Two seasons later he was a regular first teamer and he went on to be a crucial player at all his clubs until the last couple of seasons when he could only command a bit part role at Inter -- although he has forced his way back into Jose Mourinho's side in the last couple of months.
"Football has given me so much but most of all it has given me the opportunity to meet incredible people, lifelong friends," he added.
Figo, who is married to Swedish model Helen Svedin, earned a remarkable 127 caps for Portugal, scoring 32 goals while playing almost 800 club games.