2009 EU-Russia summit: Divisions growing wider?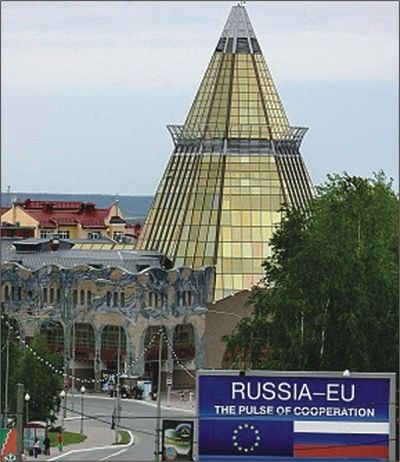 THE two-day EU-Russia summit concluded on 22 May. The venue chosen by Russia, the city of Khabarovsk, is near China, about 8,000 kilometers east of Brussels. President Medvedev made a point on 21st May of noting EU leaders would understand how large Russia is by having to fly so far.
All participating leaders, including Russian President Dmitry Medvedev, Czech President Vaclav Klaus, whose country currently holds the rotating EU presidency, EU foreign policy chief Javier Solana and European Commission President Jose Manuel Barroso, attended the summit.
The summit was held in the light of easing tensions between the US and Russia. The US Secretary of State Hillary Clinton met Russian Foreign Minister Sergei Lavrov for the first time last 6th March following a decision on 5th March by Nato to resume relations between Nato and Russia. These were broken off after the Georgia-Russia conflict in August 2008.
The EU and Russia are trying to mend ties since the last 12 months witnessed a five-day war between Russia and Georgia over the latter's breakaway regions, as well as the gas row that disrupted supplies to Europe in the depths of winter and raised doubts over Russia's credibility as a major gas supplier.
The summit provided a good opportunity for a dialogue on all strategic issues concerning development of relations between Russia and the EU. It paved the way to review many positions and outline new areas for the future development of relations including coordinating efforts to counter the threats and respond to challenges affecting the international situation today.
A broad range of issues were discussed at the talks, such as the ongoing financial crisis, Russia's proposals on the European energy charter, security issues and major international issues including the situations in Caucasus, the Middle East, Moldova, Afghanistan and Pakistan.
On the formation of a new architecture of European security, the two sides agreed to engage in more talks in the very near future. Solano said the EU will strive to support and help Russia with the first Middle East conference due to be hosted by Russia.
However, the BBC's Richard Galpin in Moscow says divisions between Russia and the European Union seem to be growing ever wider, and this latest summit, held in the far east of Russia, made that abundantly clear, with little sign of progress on any significant topic.
Russia and the European Union need each other. Europe gets its one quarter of its requirement of oil and gas from Russia and Germany alone depends on Russia for 30% of its energy supplies. Russia is the EU's third biggest trading partner.
Russia, likewise, depends on European market and technology. Half of all Russian exports go to the EU. Russia needs enormous investments to modify its pipelines and other infrastructure. Technology is abundantly available in Europe for Russia.
The European Commission estimates Russia will need to invest in excess of 700 billion euros ($905 billion) into its energy sector between now and 2020. Furthermore Russia's long-delayed effort to join the World Trade Organization could be realized with the cooperation with the EU.
* There are four major issues, among others, that divide them:
* Expansion of Nato eastwards bordering Russia
* Deployment of US missile defence system in the Czech Republic and Poland
* Kosovo recognition of EU and
* EU's eastern partnership programme.
Russia dismisses the argument that the US missile defense system in Central Europe is designed to protect US and European national security interests. Russia does not see these plans make any political or military sense. Since there are no ICBMs in the countries that the US describes as 'axis of evil', Russia poses question against what countries this system would be used, implying that they could be used against Russia.
On Kosovo issue, Russia vehemently opposes its independence and recognition by major European powers, and continues to claim Kosovo as a Serbian province, reflecting its historical ties with Orthodox Christian Serbia.
Russia considers that Kosovo's independence will boost the ethnic demands for greater autonomy or independence. It argues that recognizing the unilateral declaration of independence would legitimatize the doctrine of imposing solution to ethnic conflicts.
Every would-be ethnic or religious separatist across Europe and around the world has been provided with a tool kit on how to achieve recognition.
The Eastern Partnership Initiative of EU aims to forge close political and economic ties in exchange for democratic reforms. Armenia, Azerbaijan, Belarus, Georgia, Moldova and Ukraine have signed up to the initiative, which seeks to bolster stability in the region.
However it does not offer the prospect of eventual EU membership
"We would not want the Eastern Partnership to turn into partnership against Russia. There are various examples," Mr Mevedev told a news conference at the end of the summit. "I would simply not want this partnership to consolidate certain individual states, which are of an anti-Russian bent, with other European states," he said.
Moscow has accused the 27-member bloc of creating new dividing lines in Europe by offering closer ties to six former Soviet republics.
A tense summit meeting between Russia and the European Union has failed to provide assurances Europe will not face another mid-winter gas cutoff. Russian President Dmitri Medvedev has also warned that stronger European ties with former Soviet republics should not turn into an anti-Russian coalition.
Russian President Dmitri Medvedev said his country has no problem supplying the fuel or honoring its delivery commitments to Europe. He blamed the continent's recent energy disruptions on the inability of Ukraine to pay for its own supplies. About 20 percent of Europe's supply of natural gas comes from Russia through Ukrainian pipelines.
Medvedev was speaking at the end of a Russia-EU summit held against a background of deep divisions over security, trade and energy supplies. He also signalled a new gas crisis may arise, suggesting Ukraine lacks the money to pay for gas Russia provides. A row over prices severely affected supplies to Europe in January.
There is a risk that Russia will distance itself from 'Europe' in its social and political development if EU does not address the concerns of Russia in Europe, commensurating its economic and military power.
Global issues such as terrorism, nuclear proliferation, arms control, global financial crisis, energy, global warming, and violence in Iraq and Afghanistan need coordinated efforts of EU and Russia. If Russia is not on board these issues, global peace will be elusive.
The author is former Bangladesh Ambassador to the UN, Geneva.