Remembering a litterateur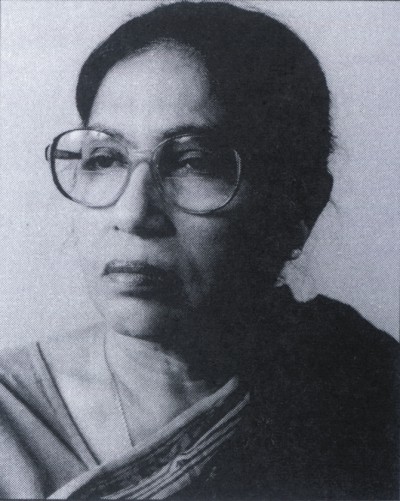 A poet and writer of renown Khaleda Adib Chowdhury passed away on May 28, 2008.
She was my chhoto mami. But many a time the phone would ring to rejuvenate a lethargic afternoon; "Hello Shopna" her voice would invite me for an informative exchange of views relating not to family problems or achievements but to the political and social change in Bangladesh.
When we came back to Bangladesh in early 1972 from Lebanon, after my father, ABM Motahar Husain, Commercial Counsellor, Pakistan Embassy, declared allegiance to the new government, we put up at her home. There were no confines to her happiness. It reminded her of her own stay with us in Karachi when she first went to work in West Pakistan. She stayed for quite sometime enjoying every moment with her sister-in-law, my mother Laila. Of late she was morose most of the time, perhaps for her illness, perhaps for the modest recognition of her work, though she has received the Bangla Academy Award.
Insomnia was her major problem, her only desire from God was, "Please give me my portion of sleep."
"Telling the mute tale of love …" were the words pronounced by poet Kazi Rosi on the 28th of May, 2008 when she first heard of her friend's sad demise. She could at the moment only reflect on the notable works of Khaleda Adib Chowdhury:
Amar Deho Amar Haat (1978), Pantho Tomar Bhalobasha (1983), Tomar Onongo (1986), Duhaate Andhar Kete (1993), Hae Badhon Lotar Kadon (1995), Premer Kobita (1998), Nirob Narsisus Obhimaan Aache Bedonae, Poems (2001)
Her famous Agni Zaha Kareni Daho is a telling commentary in the history of Bangla literature. Poet Nasir Ahmed recalled some famous lines from one of her poems which clearly informed us that she had become aware of her counted days.
She knew her time had come to depart, but astonishingly how could a person in her seventies be so romantic, express such unending love and display endless pain!. In her book of poem Amar Deho Amar Haat you get all of these in one pack.
Her books for children have also brought her laurels. National Professor Kabir Chowdhury says, "She has kept her vibrant mark of creativity here".
In the last few weeks of her ailment I could not bear to see her condition in Apollo Hospital. The lovely and entertaining Mami had undergone a metamorphosis. Her hair had turned silver, there were numerous needles attached to her thin body and the patches of scars from blood transfusion on her white hand showed signs of severe pain. It was quite obvious that the hour had come to separate us from the great poet whose bosom was full of romance but now lying helplessly uttering "Allah aar koto." The long craved for sleep had finally come.
Born in 1937, Khaleda Adib hailed from Comilla Pailgasa Chowdhury Bari. My Mama, Anwarul Haq, who also died of cancer was Director Finance, BTMC. All her three children are well established. Sangita is in business, Tanvirul Huq Probal is now President of "Rehab" and Shumona a well known artist and singer. Khaleda had been a government officer, teacher, journalist and finally a writer. Her published works number over 42. She is no more, but she will be alive in our hearts through her writings, which are full of love for mankind.
Some recognition may be noted here: Bangla Academy Literature Award, Alaul Literature Award, Poet Jashim Uddin Parsiahd Literature Award, Bangladesh Lekhika Shongho Award, Agrani Bank Shishu Shahitto Award, M Nurul Kader Foundation Shahitto Award, Dhaka Mahila Club Podok, Ushi Shahitto Award (Comilla) etc.
Mohsena Reza Shopna is Past President, Inner Wheel Club of Dhaka North.