Diarrhoea breaks out in coast
Aila toll climbs to 175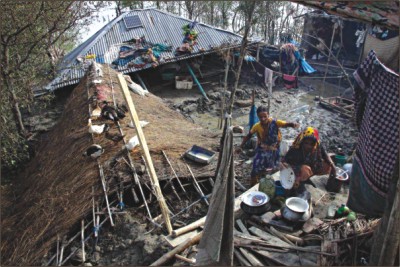 Diarrhoea has broken out in Cyclone Aila-hit coastal areas of Khulna and Satkhira as an acute scarcity of drinking water and food worsened sufferings of thousands.
At least two people died of diarrhoea in Khulna coast yesterday, and over 100 were attacked with the disease in coastal areas of the two districts. The situation might turn alarming unless drinking water is immediately made available, reports quoting locals said.
Meanwhile, unofficial estimates said death toll from the cyclone rose to 175 yesterday.
According to official statistics, death toll was 147 while 6,708 were wounded and 10 people are still missing.
Our correspondent in Satkhira reports that thousands of marooned people in remote areas of Gabura, Padmapukur, Burigoalini, Munshiganj and adjoining unions are virtually starving as they do not have fuel to cook food.
Burigoalini Union Parishad Chairman Asim Kumar Joardar said local administration is distributing rice among the affected people, but they cannot cook due to lack of fuel, and because there are no high lands nearby.
In Shyamnagar upazila, more than 80 people including children attacked with diarrhoea were admitted to local private clinics.
Satkhira Civil Surgeon Dr Md Ebadullah said 37 medical teams are working in the affected areas.
Local sources said death toll from Aila rose to 47 yesterday from 35 in Shyamnagar and Assassuni upazilas.
Our staff correspondent in Khulna reports: Diarrhoea broke out in Maheshwaripur, south Bedkashi and North Bedkashi unions, and the situation might worsen, sources in the areas said.
Relief materials and drinking water were being distributed but these could not meet even one-fourth of the need, they said.
Death toll from Aila in Khulna district rose to 43 yesterday from 35 on Wednesday.
The health minister visited different cyclone-hit areas in Assassuni upazila and distributed relief yesterday.
Our correspondent in Patuakhali reports that thousands of people in the cyclone-hit coastal area of the district are suffering for food and drinking water crises.
SUNDARBANS
A large number of trees were uprooted, infrastructures damaged and seized logs of Sundari trees swept away by 10-12 feet high tidal surge whipped up by Aila, reports our staff correspondent in Khulna.
"The damages are not bigger than that caused by Sidr in the past. Yet, the aftermath of Aila is grim as the mangrove forest has not yet fully recovered from the destruction caused by sidr," said forest official Mihir Kumar.
"We do not rule out loss of wildlife in the Sundarbans due to Aila ," said Mihir.
Meanwhile, Food Minister Abdur Razzaque at a press briefing at the ministry yesterday said the government has allocated another Tk 30 crore and 5,000 tonnes of rice for the cyclone affected people.
Eleven navy ships and seven helicopters of the air force are distributing relief, he said.