Western Union plans big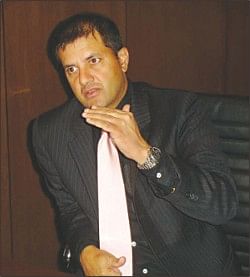 Western Union, a US-based money courier, plans to reach out to all villages and unions of Bangladesh to better manage the country's increasing flow of remittances under its 'massive expansion plan', says the company's senior vice president.
"Remittance flow in Bangladesh increased dramatically in recent years. The country is now one of the top 10-remittance receiving markets in the world, which made us pay special attention to this market," Anil Kapur says.
"Bangladesh has become an emerging market for us. More people are migrating from the country every year. So if we can set up more outlets, we will have more business here," says the senior vice president of Western Union (South and South East Asia). "We are spreading our network across the country under our massive expansion plan."
Kapur says as many as 6.5 million Bangladeshi migrant workers, mainly from the Middle East, UAE, Malaysia, Italy and the UK, sent around $9 billion to their families in 2008 alone, a rise from $6.50 billion a year ago.
"The migrant population, who travel from remote regions of the country, usually find it difficult to send money through conventional ways. Bank transfers typically don't tend to be suitable for them, as they find the procedures difficult," he says, explaining why people choose informal money transfer services.
Kapur says non-resident Bangladeshis (NRBs) send money through informal channels because they are not aware about bank accounts, home and abroad.
Only 13 percent of the population has access to bank accounts in Bangladesh, which means the NRBs tend to rely more on unofficial channels, such as hundi, to receive money remitted by their relatives.
Kapur says more NRBs are now shifting to formal channels to avoid uncertainty and money laundering charges, as a result of Western Union's constant efforts.
"We see this as an immense opportunity to reach out to a large segment of the population that is still uncovered by banks and other official channels," he says.
Refusing to disclose the exact target figures in Bangladesh, Kapur says his company plans to get in touch with all the villages and unions of the country, in the shortest possible time.
Kapur, who joined the company in 2000, has worked in the Gulf and South and Southeast Asian regions of Western Union. He says the company's aim is to become the largest money transfer service provider for Bangladesh.
"Western Union has been in this business for 150 years in total and for 15 years in Bangladesh. Now our target is to be the safest and largest hand in transferring money here," the company senior vice president adds.
Under the expansion plan, Western Union signed a deal with the postal department last year, by which it would open its outlet in almost every union. There will also be more than one outlet in areas that receive greater volumes of remittance.
Currently, the company has 12 major partners, including banks, NGOs and the postal department. Western Union is working with 18 banks, including BRAC Bank, AB Bank, Dutch Bangla, Prime, UCBL, Trust, Basic, Rupali, Pubali, Exim, Southeast and First Security, to disburse remittances among the families of migrant people, says Kapur.
The company also disburses money through NGOs, including Brac, ASA, and Jagorani Chakra Foundation (JCF).
"These banks and NGOs have hundreds of branches across the country," he says. "We also have an outlet at the airport, where our officials inform the outbound passengers as to how they could use our services from where they are headed."
Currently, the company covers 75 percent of the rural network of the country, the company senior vice president says.
"It is very important for us to prioritise on the rural network, as most families of migrant workers live in villages. So we are focusing to increase the number of outlets in the remote areas," Kapur says.
"Even three years back, we had only 500 outlets in Bangladesh. But now we have 3,900 outlets and the number is growing every week," he says.
"Our vast network allows clients to send and receive money to and from any part of the world," he says. "At the same time, our charges are also very reasonable. For instance, if someone sends 1,500 ringgit, we charge 15 ringgit for our services."
The company has also significantly reduced service cost in the recent years, he says.
Kapur, also a member of the American Chamber of Commerce and Indo-American Chamber of Commerce in India, says his company is working to create awareness to use formal channels to transfer funds to the country.
"We are organising road-shows, rallies and village meetings to make them understand the easy and risk-free money transfer service," he says.
Western Union's market share in the $400 billion global remittance market stood at 17 percent last year, with its worldwide revenue growing by 8 percent a year.