Bijori Barkatullah: When beauty complements dramatics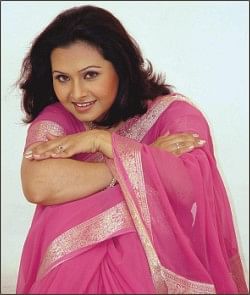 She is a stunning beauty spruced up with talents. Bijori Barkatullah never thought that she would be this gifted actress and do all her job with utmost perfection. Reminiscing on the childhood days she says, "I was always busy with my studies. I also learnt to sing but then shifted to dancing." Bijori is well versed in Kathak and Bharatnatyam and believes that one cannot learn anything without devotion and proper practice.
Talking about her first play, she says, "It was in the year 1998 and a play was to be aired in BTV. The actress failed to turn up and I was asked to do the role. I was given the script. I passed the audition and acted in the single-episode play called 'Shukher Chhar Potro.' I've been lucky enough to work with some great actors and learnt much from them." She continues, "I was an enlisted dancer and actor in BTV and started doing more plays. Gradually this medium attracted me and I started to get attached to it. However, I still did not consider taking up acting seriously."
Bijori joined the History Department at Dhaka University for her bachelor's degree. After completing her studies, when it was time to look for a job, Bijori realised that she was born to act. "I thought about pursuing a career that would give me total satisfaction and I realised it was acting." Today, though she has become selective when choosing roles, she is well suited for all kind of roles. She is one of those talented actors who are not afraid to take up challenges.
Talking about her flair for acting, Bijori states that she always does her homework before any shoot. She is also spontaneous and loves what she does. She further adds that talent when combined with sincerity and dedication is bound to result in success.
Some of her upcoming works include "Jao Pakhi" for Desh TV and "Shada Megh Kalo Megh" for Banglavision. The actress does not plan meticulously and likes to take each day as it comes. She says, "I am interested in quality movies and am in search of good roles where I will be able to display my acting skills on the big screen."
Bijori Barkatullah has come a long way and has made significant achievement at a considerably young age. Bijori says that it has been a good and peaceful journey so far and that she is quite content with her personal life and career.