Rain plays spoil sport
Ctg Abahani 'awarded a tie', Dhaka Sports win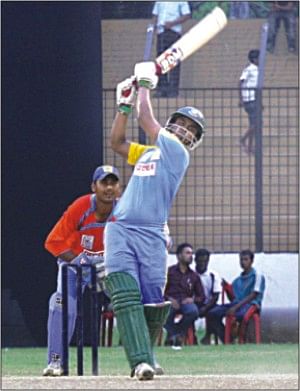 Rain played foul on the second day of the Habib Group PCL Twenty20 tournament as Dhaka Sports Club won the curtailed-over first game against Dada Warriors and the second match between Chittagong Abahani and Chittagong Brothers Union ended in a tie at the MA Aziz Stadium yesterday.
Heavy overnight shower reduced the first game to a 10-overs-a-side affair and Rajin Saleh-led Dhaka Sports Club secured full points with a seven-wicket victory, but rain spoiled the second one what could have been an exciting game.
Local hero Tamim Iqbal, the most expensive player of the tournament, was on fire before rain stopped Abahani's charge. The dashing left-hander remained not out on a 36-ball 41 that contained four boundaries and a six as Abahani scored 77 for 2 in reply to Brothers' 150-7 in 20 overs.
The match's fate was then decided by Duckworth-Lewis method which saw the battle tied.
Chasing a challenging target, Abahani looked well on course when Tamim and Hannan Sarker laid the foundation by adding 64 runs for the second wicket after early the departure of Rabiul Islam.
The drama began after Abahani reached 69 for 2 in 10 overs. Sri Lankan Chamara Silva had just joined Tamim a ball earlier. It started to drizzle before the start of 11th over. Brothers Union at that stage (after 10 overs) were 73 for 2, ahead of Abahani.
Tamim was seen a bit tense and urged the umpire to continue the match. Amid light drizzle, Mohammad Shahajada bowled the 11th over and Tamim and Silva took eight runs from it with a 'priced' boundary from the local boy that eventually saved Abahani from a sure defeat.
Immediately after the over, heavy rain set in while strong wind ripped the dug-outs, banners, bill boards and tore apart the large canopy over the stands. What added to that was the power cut at the time that ensured no further play.
With Abahani standing on 77 for 2 in 11 overs and Brothers Union on 78 for 2 at the corresponding period, everyone thought that Brothers will have the last laugh as per D/L method.
But match referee Zahid Razzak Masum pronounced that as per D/L method the score of both teams actually stood at 77 runs meaning the match was a tie.
"Abahani could be the winner if they were 78 at the time of stoppage and similarly they would have been the loser if they were just one run short (76 for 2) then," explained Masum.
But before that Tamim entertained the crowds as the left-hander smashed two consecutive boundaries off Mohammad Younus in the second over and then in the eighth over hit one boundary followed by a huge six off national spinner Abdur Razzak.
Brothers innings built on four fine knocks by opener Mehrab Hossain (33), Sri Lankan batsmen Jeehan Mobarak (20) and Chamara Kapugedara (40 not out) and Tushar Imran (33).
Earlier in the first game, it was a battle between two Pakistanis.
Saeed Anwar Jr hit 35-ball 45 with four boundaries and a six to help Dada Warriors score 65 for 5 in 10 overs but Waseem Nayeem outshined his compatriot as his unbeaten 27-bal 43 guided Dhaka Sports Club to reach 66 for three in 7.2 overs.
SCORES IN BRIEF
DADA SPORTS: 65-5 in 10 overs (Saeed Anwar Jr 45, Zunaed 1, Imran 11, Kasif 5, Faisal 0 not out, Sazzad 0, extras 3; Bashar 1-13, Waseem 1-19, Shahadat 2-4).
DHAKA SPORTS CLUB: 66-3 in 7.2 overs (Waseem 43 not out, Rashedur 0, Bashar 1, Hanif 1, Anisur 11 not out, extras 10; Saeed Anwar 1-10, Kasif 1-16, Kamrul 1-10).
RESULT: Dhaka Sports won by seven wickets.
Man-of-the-Match: Waseem Nayeem (Dhaka Sports Club).
BROTHERS: 150-7 in 20 overs (Mehrab 33, Mubarak 20, Tushar 33, Kapugedera 40 not out, extras 8; Rasel 2-21).
ABAHANI: 77-2 in 11 overs (Tamim 41 not out, Hannan 23, extras 6; Mubarak 1-21, Shahajada 1-6).
RESULT: Match Tied.
Man-of-the-Match: Tamim Iqbal (Abahani).