Nrityanchal celebrates International Dance Day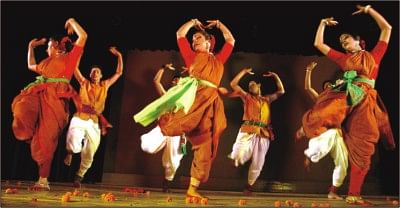 Dance organisation Nrityanchal Performing Arts Academy celebrated the International Dance Day with a colourful programme. The programme, which featured over hundred students of the institution, was held at the auditorium of Shishu Academy on April 29.
The programme commenced with a group performance by child artistes of the academy. Media personality Muhammad Jahangir, who is also an advisor to Nrityanchal, gave a brief speech. Actress turned lawmaker Sarah Begum Kabori was present as chief guest at the programme. Kabori handed crests to five children, winners of a dance competition among the students of Nrityanchal. Muhammad Jahangir read out this year's International Dance Day message by British dance artiste Akram Khan.
The packed auditorium suggested that there is an avid interest in dance in the city. Many attended the whole programme standing inside the auditorium, as no seats were available after a while. The venue was beautifully decorated with flowers and portraits of renowned dancers of the country.
Nrityanchal directors and noted dancer duo Shibli Muhammad and Shamim Ara Nipa anchored the brief inaugural programme.
After the inaugural, the performance resumed with a tribute to the motherland, titled "Desh Bandana." That was followed by an ode to the National Poet Kazi Nazrul Islam. Dressed in red and white, the dancers performed the piece with the song "Anjali laho mor."
There were several compositions that featured child artistes and the audience appreciated most of them. A fusion piece featuring Nazrul's "Bhor holo dor kholo" and Rabindra Sangeet were parts of the children's performance. Young dancers, dressed as puppets, also enacted the art of puppetry.
Students also performed 'tarana' and Odissi dance. A steady performance of Odissi was followed by a fast paced 'tarana.' Artistes also performed an improvisation on Odissi with the song "Dola hey dola" and a 'shamar nritya.'
The programme wrapped up with a composition titled "Rangiye diye jao." While leaving the stage, dancers circled around and hailed the audience by throwing flowers at them.
Nipa and Shibli along with Sukalyan Bhattacharya, Swapan Chowdhury, Baby Rosario and Irin Parvin were the directors of the dance pieces.